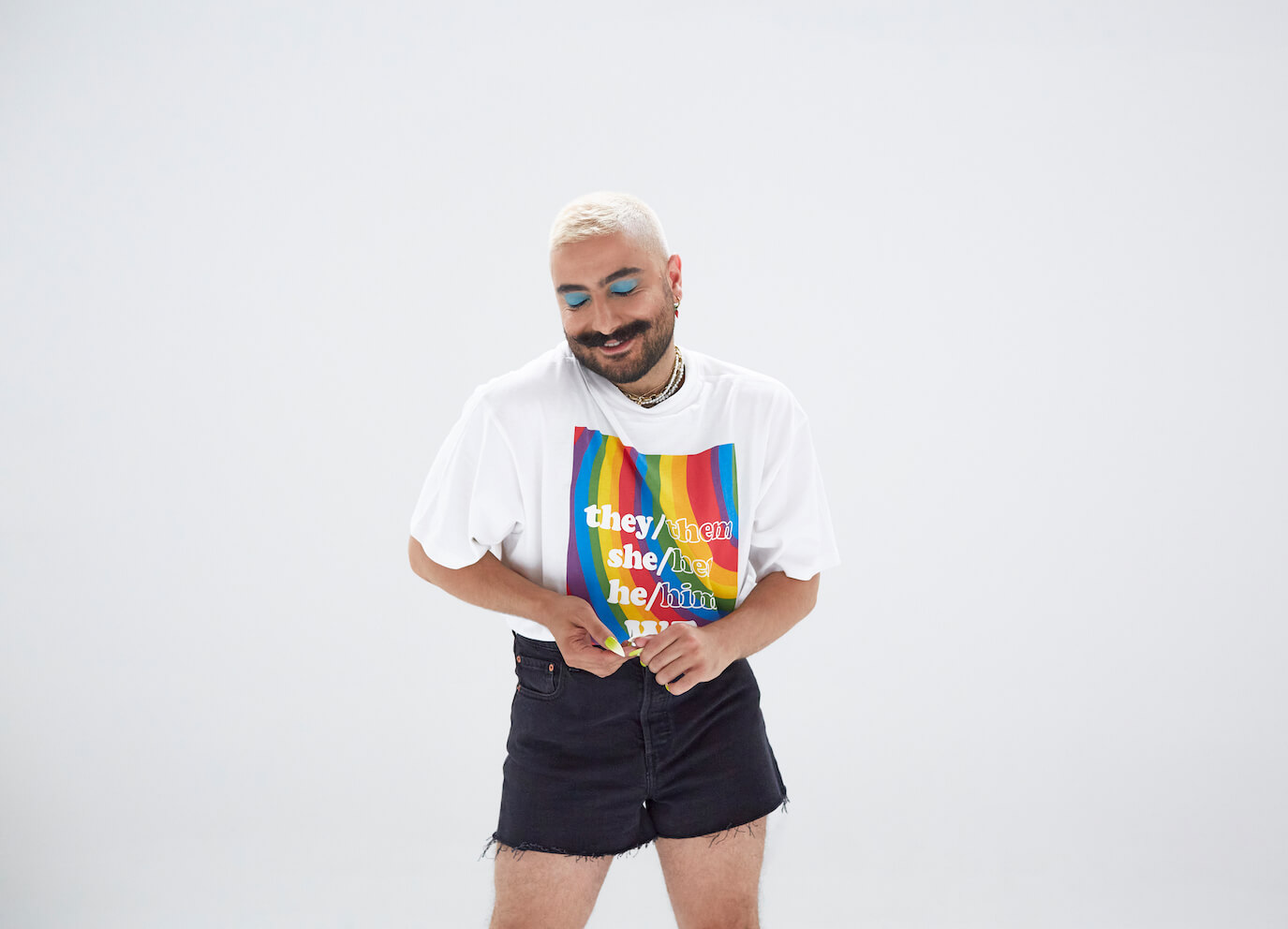 Celebrating Trans Pride and Trans Awareness Week with Deni Todorovic
In honour of Trans Awareness Week, we chat activism, trans joy and the importance of visible allyship with non-binary icon Deni Todorovic. As well as something very special we've created with Levi's!
Trans Awareness Week is on the horizon – a whole week, from November 13 to 19, to celebrate trans and gender diverse pride, and to learn how to elevate and amplify the voices of our community.
It's a chance for the trans and gender diverse folks to revel in our wonderfulness, and celebrate the achievements and pride of our community. And it's also a chance for trans allies to engage in education, start conversations, and make sure workplaces, schools, communities and other spaces are safe and inclusive.
In honour of Trans Awareness Week, we've joined forces with our wonderful supporters at Levi's to create a FREE Community Pride Pack that does just that – it's filled with everything you need to champion trans allyship and inclusivity every day of the year. Visibly, and proudly.
And in turn, to celebrate the launch of these free packs on Monday 25 October, style icon and non-binary babe Deni Todorovic is on hand to chat about the impact of these packs, and why Trans Awareness Week is so important.
Tell us a little about yourself! What are you passionate about, what brings you joy – how would your friends describe you?
My name is Deni, my pronouns are they/them. I'm an LGBTQIA+ activist, fashion editor, content creator and podcast host. Now that we've got that mouthful out of the way, I'm also an Aries! My passions span from the deep – think queer rights and politics – to the slightly more shiny: fashion, pop culture, music, film and television.
My one-year old niece brings me more joy than I think I've ever felt in all my 33 years, and my friends would describe me (I hope) as loyal, passionate, generous and completely incapable of telling stories quickly.
How has your journey with your identity shaped who you have become, and who you are now?
My journey with my identity has shaped who I am in so many ways. Everything from childhood feelings of othering and trauma with regard to being ethnic in a relatively white town, being working class in an affluent suburb, to the cherry on top – my queerness. Truly though, each of those 'obstacles' would go on to become my superpowers and inform not only the rest of my life but subsequently also my career.
How did your passion for activism and advocating for the LGBTQIA+ community get ignited?
I think it truly began with the same-sex marriage plebiscite in2017. The postal vote rally was the first 'protest' I ever attended. Simultaneously, while I was working at Cosmopolitan magazine, I pitched a campaign to my editor to highlight the VOTE YES call to action and Cosmo published its first ever Pride issue.
My activism would be ignited further when I came out as non-binary last year. I often say I'm an accidental activist, because I was just sharing my story as it happened in real time. However, that seemed to resonate with the Instagram audience and communities beyond that.
What words of advice do you have for young LGBTQIA+ people?
My one piece of advice to any young queer humans reading this is that they must first and foremost love themselves. Our queerness is held against us far too often. Instead, I urge you to remember that it's not only your superpower, but it's what makes you YOU. So fall deeply in love with yourself, and always back yourself and your spirit. When you have that down pat, when you come to feel love and acceptance for yourself first and foremost, the rest will follow.
Why is Trans Awareness Week such an important date for the TGDNB community?
Trans Awareness Week is tremendously important because the suicide rates of trans people in our country and beyond is something that desperately needs more awareness. Now more than ever, now that so many beautiful trans folks are about to step out of Covid lockdowns and out into the world, we need to ensure the safety of the spaces in which they deserve to occupy.
Our lives matter, our voices deserve to be heard and our transness deserves to be celebrated.
We know you have worked with Levi's before, how has the experience been for you?
Working with Levi's was incredible, in that they truly use their global platform for the greater good. It can become quite isolating when it feels like there's only a handful of people, that you know, talking about pronouns on the internet. So, to then see a brand like Levi's raise the awareness around the importance of pronouns by plastering them all over merch globally – feels incredibly affirming and like a big ol' queer hug. We need more of that.
What difference would it have made for your school or youth group to have received a (free!) Community Pride Pack for Trans Awareness Week?
It would have meant that I could have gone into the world feeling like a whole person as a young person. I didn't understand my transness until I was in my early 30s because it was never brought to my attention in a positive light. Young people can't be and can't celebrate what they can't see. The children of this generation deserve to feel seen and safe and celebrated, and this Trans Awareness Week Community Pride Pack does just that.
We collaborated with Levi's on the Gender Inclusive Language Guide included in the packs. Why is inclusive language so important?
Inclusive language can mean the difference of feeling seen and heard, versus feeling invalidated, inferior, and not respected as an equal member of society or a community. Words have great power; they can lift or tear down. Let's lift, let's be on the right side of history and continue to lift and value the identity of all humans.
What impact do you think is made by initiatives like these and brands like Levi's using their platform to elevate them?
It makes a huge impact, I can't stress enough that initiatives like this pack and like Trans Awareness Week have the power to save trans lives.
A big part of Trans Awareness Week is celebrating TGDNB (Trans, Gender Diverse, Non-Binary) pride. What does pride mean to you?
Pride to me is a feeling that's often hard to articulate. It's love for oneself. It's love for those around you. It's not only self-acceptance but also a celebration of self. A celebration of the queerness in your soul and in the souls of others. A celebration of those who walked before you and foundation setting for those who'll walk after you.
It's the greatest feeling in the world.
TAW is also a time for allies to level up their knowledge and allyship. Can you think of a time in your life where an ally got it right – and how did that make you feel?
When I came out as non-binary, I did it in a 30-minute video and put it on the internet. One of my best friends called me after in tears to congratulate me, tell me that she loved me and proceeded to say 'I took notes throughout that video because I want to get it right. I want to do better. Because I love you.'
That reaction floors me still to this day.
---
Minus18 and Levi's have 200 Trans Awareness Week Community Pride Packs to give away, via our online store. They'll be dropping at 5pm on Monday 25 October, for you to champion trans allyship and inclusivity all year round, within your community group, school, classroom, youth org, sports club, theatre posse, or community organisation.
How to purchase:
Head to the Minus18 Pride Store at 5pm on Monday 25 October
Purchase away! The pack is completely free, all you need to pay for is postage
One pack per order/group
And how to get involved in Trans Awareness Week? Easy! Download Minus18's free digital toolkit to get started.
Whether you're celebrating your trans pride, you're a seasoned ally, or you're just starting to learn about gender diversity, there's a way to get involved at work, school, with mates, in your community, or digitally.