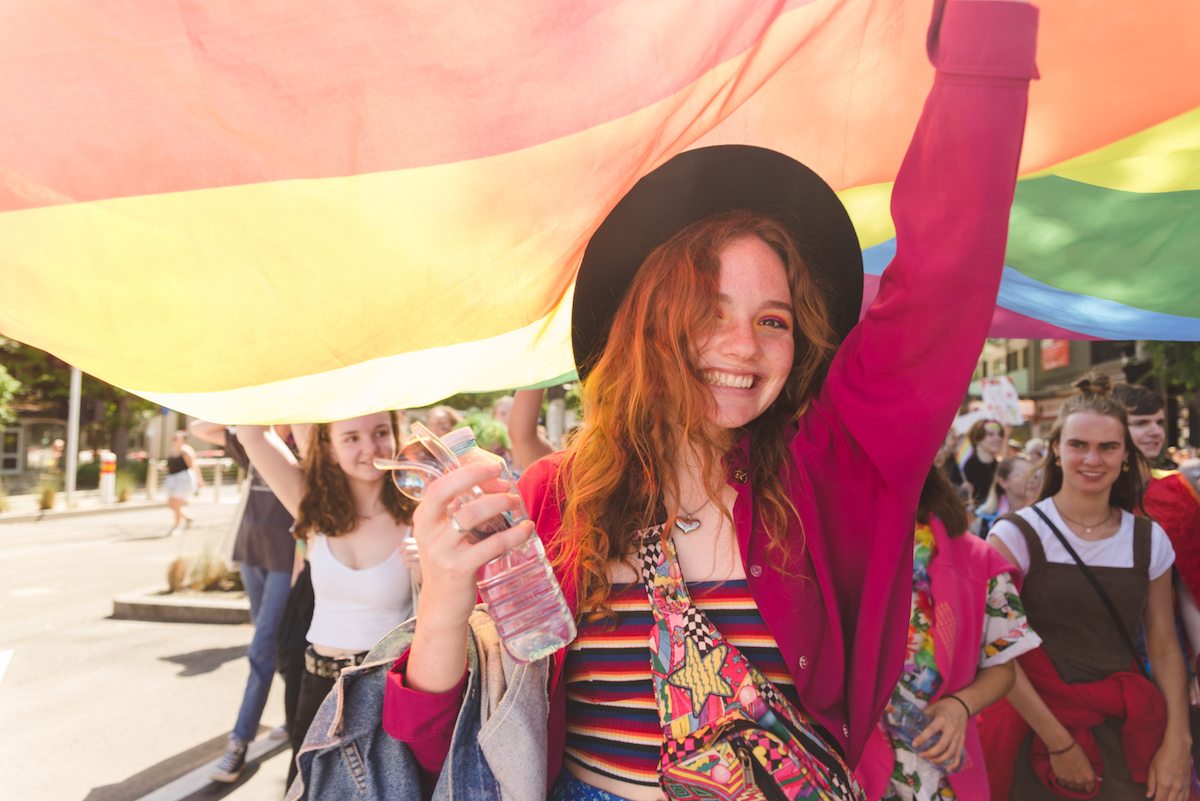 How to celebrate IDAHOBIT at Home
In 2019, thousands of workplaces, schools and communities got involved in IDAHOBIT, the International Day Against Homophobia, Biphobia, Transphobia and Interphobia, fundraising and hosting events of all kinds. Morning teas to school assemblies, business-wide celebrations to lunchtime conversations.
This year, even though circumstances are obviously a little (very!) different, IDAHOBIT is definitely still going ahead – many of us will just be celebrating from home! In fact, people around Australia aren't just downloading the usual School and Workplace IDAHOBIT toolkits. This year, you bet there's an At Home toolkit – filled with ways to celebrate IDAHOBIT online.
Want some inspo?
HOST A RAINBOW NIGHT IN
Good vibes with mates AND supporting LGBTIQ+ youth? Amazing! Host a rainbow night in – it could be completely digital, or a real-life hang with your household.
If you're going digital, you can use Skype or Google Hangouts, or use the House Party app or Facebook to stream it. You could even step things up a notch and take turns with DJ duties! Encourage friends to donate what they'd spend on a night out on the town and truly make a night of it. Facebook has great crowd-raising tools to tally donations and keep things simple!
WORK FROM HOME DESK, BUT RAINBOW!
Show your pride in your next web chat or digital team meeting with our Desk Pride Packs, complete with a Rainbow Poster, Flag, Pens and Lanyard! Grab one for yourself, or order rainbow goodies for your whole office (to distribute once everything returns to normal!).
Being visible is still a great way to remind co-workers that discrimination has no place online or offline, to start important conversations, and prompt your mates to donate.
VIRTUAL WORK LUNCH
Grab your office posse together, whether or not your larger workplace is getting into the IDAHOBIT spirit (which they totally should!). Decorate your backdrop, treat yourself to a really lush lunch, and get chatting about ways to champion inclusion now, and when things return to normal.
VIRTUAL FLAG RAISING CEREMONY
In this strange climate we find ourselves in, virtual versions of real-life activities are looking like the way to go. Organisations, and especially schools, are choosing to stream their rainbow flag raising ceremony online to their community – perhaps teaming it with an email newsletter and sharing a message of support on social media.
QUEER MOVIE STREAMING PARTY
This one's obvious, right? Stream a queer movie with your mates! Do a Netflix watch party, House Party moment, or a Facebook watch party with your friends list. Or – if you want a low-fi version that absolutely still works? Perfectly time pressing 'play' at the same time while you do a video call!
RAINBOW DINNER PARTY
If your speed is less big night out and more Sunday roast, you could host a Sunday Social with an online (or real-life) dinner party! Skip bringing the wine or box of Favourites and donate instead, while catching up online, comparing rainbow dinner set-ups, and having a great night in!
WHY CELEBRATE IDAHOBIT?
Fundraisers, donations, and even your rainbow purchases all help ensure Minus18's youth events will be back in action after the shut down. And while we're in shut down, your contributions also create spaces and programs for LGBTQIA+ young people to feel supported online too.
Above all, being social and connecting with friends, family and our chosen families is something we're doing VERY well at the moment.
Check out some other great IDAHOBIT links here:
DOWNLOAD YOUR IDAHOBIT AT HOME TOOLKIT