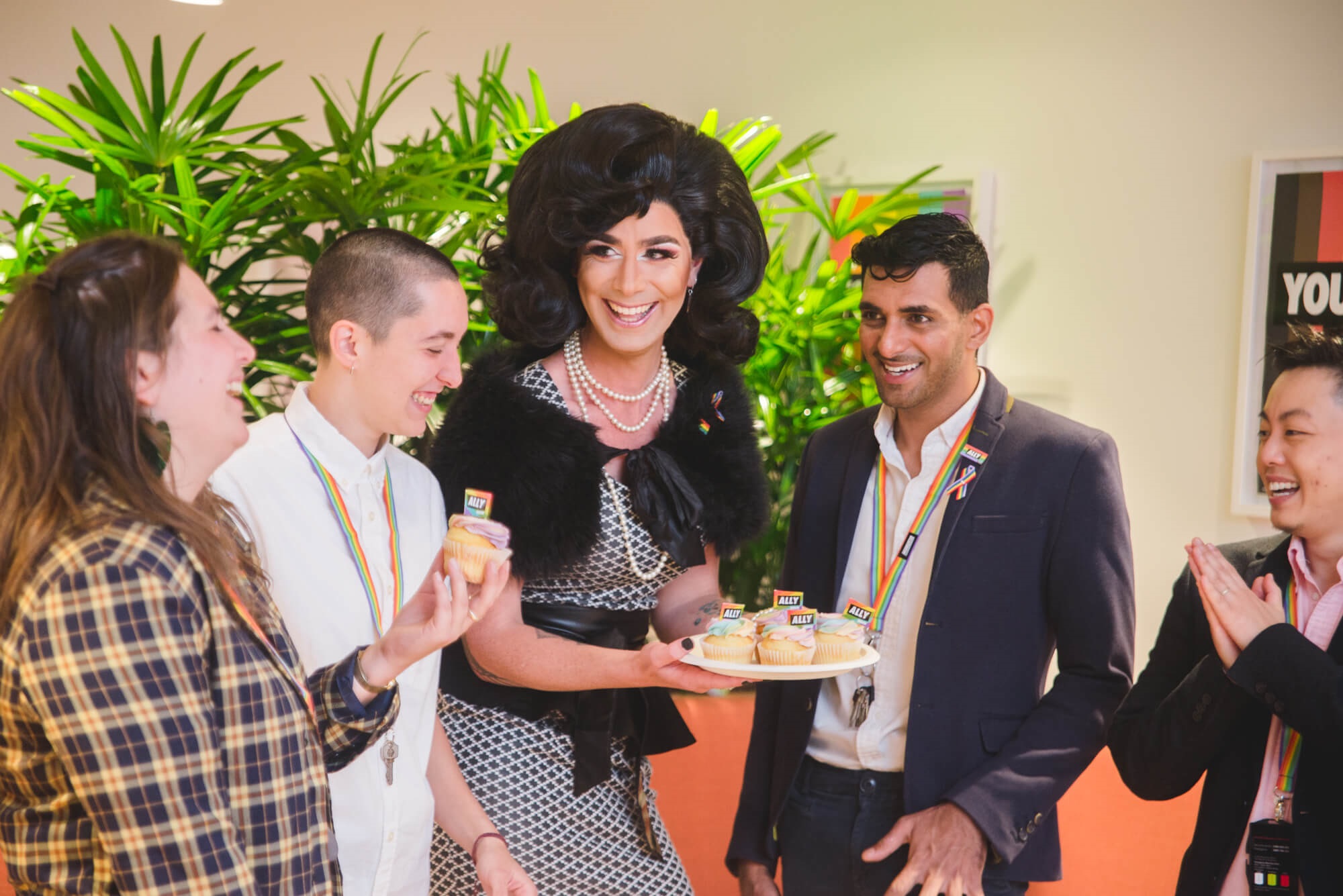 How to fundraise for IDAHOBIT: Top tips for your school, office or community!
IDAHOBIT, celebrated annually on 17 May, is a global day of activation and allyship, when the LGBTQIA+ community and allies come together to raise awareness of LGBTQIA+ discrimination and to advocate for change.
Organising a fundraiser is a fantastic way to deck yourself out in rainbow, take a visible stand against LGBTQIA+ discrimination, and change the world through LGBTQIA+ inclusion. By choosing to fundraise for Minus18, you're supporting LGBTQIA+ young people through life-affirming events, education and empowerment.
Whether you're at a school, in a workplace or out and about in your community, Minus18's IDAHOBIT toolkit has you covered with inspirational ideas and handy tips.
Signed up already, and looking for more? Planning a fundraiser can feel overwhelming, especially the finer details! We've boiled it down to the basics for you to check off - plus a little more if you're fundraising in your school, workplace or local community.
Fundraising in your workplace or business
I want to make my fundraiser pop - any ideas?
Grab some merch from our website and set up a stall in the foyer or around the office
Grab some cupcakes and decorating supplies (like our cupcake flags!), and get decorating - either collect donations to participate or sell the cupcakes after
Selling something in-store already? Set aside a portion of each sale to donate to Minus18
Whether you're an online store or a restaurant doing delivery, you can use technology to your advantage - add a 'donate' item to your store, and donate the proceeds!
Make sure you register for our IDAHOBIT toolkit for other great tips
If you run a cafe, we'll even set you up with rainbow ribbons and guide you through the fundraising process! Find out more and register your interest now >>
Anything I should know about while I'm planning?
Get support from senior leadership. It helps if they can back up your activity with some funding too! Need to get them onboard? Start with some of the resources on our website and talk about the impact of LGBTQIA+ allyship and inclusion
Spread the word through your pride network and internal communications channels to get people excited. Put something in the all staff newsletter or on the Intranet, and encourage colleagues to bring it up in team meetings.
Selling something at the till? Simply add the donation or payment to the customer's bill - just be sure to keep a note of how much you've raised!
Resources and other goodies
Take a look at our pride packs for workplaces! Each one contains a heap of handheld rainbow flags, small flags for cupcakes and rainbow pens, among other exciting rainbow merch!
Still working from home? Grab some virtual backgrounds for your video calls! They're a great talking point to let people know about your IDAHOBIT plans.
Looking for some extra facts and figures? We've got some other incredible online resources:
Inclusive language guide - originally co-created for use by the Victorian Public Sector, this guide walks you through the appropriate use of language for discussing LGBTQIA+ inclusion
Fundraising in your school
I'm looking for some extra event inspo - got any tips?
Get students together for a fun run, footy kicking competition or talent show - entry for a gold coin donation!
Grab some goodies from our website and set up a merchandise stall over lunch!
Put on a rainbow spread - everyone can bring something to share, and grab a plate for a gold coin!
Check out our IDAHOBIT fundraising toolkit for some of our other fave ideas!
I've got an idea, but is there anything I need to think about?
Make sure you've filled out the necessary forms and collected any relevant permission slips from parents before the day.
If you're running an all day event, collect donations in the classroom to make it easier.
Resources and other goodies
Grab one of our school pride packs! Inside each one, you'll find a large rainbow flag, some IDAHOBIT posters, ally badges, rainbow stickers and a HEAP of other rainbow goodies.
Check out some of our other incredible online resources:
Fundraising in your community
I'm only doing this by myself/with a few friends - what can I do?
Team up with your local to organise a rainbow-themed trivia night!
If you've got stuff you need to get rid of, why not put it to good use? Get together with some friends, clear out books, clothes or other household items you no longer need, and put them up for sale online or at a garage sale!
Feel like running a marathon (or possibly a little less than that)? Ask people to pledge money to back you, in support of Minus18!
Get folks together for a community potluck - encourage everyone to bring something to share, and donate a gold coin for a plate of everything on offer!
Our IDAHOBIT fundraising toolkit has you covered too - register for more great inso!
What do I need to keep in mind?
Whether it's simply your circle of friends, community groups or businesses in your local area, reach out and get people onboard!
If you're collecting donations yourself, make sure you keep good records - as well as receipts of anything you buy to support your fundraiser
You'd be amazed at how much of an impact you can make on a shoestring budget - or even spending nothing at all!
Every dollar raised to support LGBTQIA+ young people makes a difference, and we're so grateful to everyone who organises and contributes. It's not all about the money though - visible allyship and support has a huge positive impact on LGBTQIA+ young people.
Resources and other goodies
If you're looking for a few pointers on inclusive language and terms, Minus18 has you covered:
Tips for all fundraisers!
How do I get started fundraising online?
It's easy! All you need to do is jump onto GiveNow to set it up!
I want to deck the halls with rainbows - where do I get some?
From our online store - we've got you covered with plenty of rainbows!
I want to make a splash on a budget - how do I get the best value for my dollar?
Make use of our free resources, or buy our rainbow ribbons - they're tax deductible!
Who's doing what?
Make sure everyone's got their jobs lined up - both for planning the fundraiser, and for the big day itself! Don't be afraid to ask around for a few extra helpers too.
I've got my fundraiser - but no-one knows about it!
Download some awesome FREE resources from our website - they're open to anyone to use! You can print them out and put them up, or simply use them online - all fantastic ways of raising awareness and getting people excited!
What's my goal?
Every dollar raised makes a difference, and you should be proud no matter how much you raise - but having a goal can sometimes really help to firm things up!
Wait - how do I actually raise them funds?
If you're running an in-person event, set up a collection box at the door or at the table or location where you're selling goods. Running your fundraiser remotely? Not a problem! Consider setting up a fundraising page on GiveNow to collect donations.
I've got the money - now what?
If you've collected the funds yourself, pay through the donation tab on our website. If you've organised an online fundraiser, say through GiveNow, then all you need to do is close the fundraiser and submit the funds to us!
If you require an invoice, send us an email at info@minus18.org.au