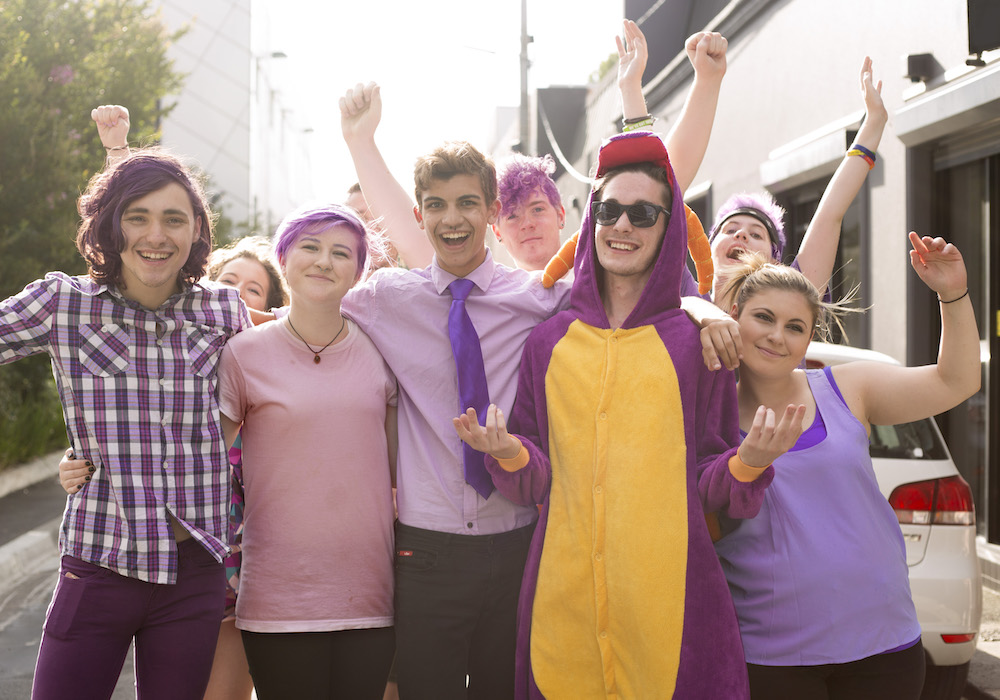 How to have an amazing Wear it Purple Day at school
Wear It Purple Day was founded in 2010 when bullying and harassment towards and LGBTQIA+ youth had an enormous impact on rainbow young people and their right to a safe, inclusive and empowering space.
Now, Wear It Purple is a global movement that works to empower young queer people and celebrate diversity among our peers. It works to remind young people that they are loved, supported and exist within a community that will support them and encourage them to be proud of who they are, unconditionally.
All over the country right now, schools are looking a little bit different, but never fear! There are still plenty of different ways to celebrate Wear It Purple Day on August 28 in-person and digitally – whatever way suits school right now. We even have a FREE Wear it Purple Pride Pack available to make sure no one misses out.
Here are some super fun ways of getting YOUR school involved:
Fundraise with a casual clothes day
Who doesn't love a free dress day?! Opting to wear casual clothes (with a major splash of purple of course) is an easy and effective way to encourage both students and staff to celebrate the spirit of young rainbow people.
As an added bonus, encouraging both students and staff to bring a gold-coin donation is a super easy and effective way to raise funds for charities that support LGBTQIA+ youth.
If your school's operating digitally and remotely, no worries! Encouraging students to wear a piece of purple clothing via online classes is still a SUPER way to raise awareness, engage in important conversations, and encourage an inclusive and safe space for LGBTQIA+ students.
Add a splash of purple online
Dedicating a section of the weekly/monthly school email newsletter to Wear It Purple Day 2020, encourages students, teachers and parents to understand the importance of supporting young LGBTQIA+ people.
With some schools still being in the lockdown zone, things like newsletters, social media posts and online messages from the principal are really simple ways for schools who are unable to activate IRL to get the message out there that they are celebrating Wear It Purple day!
Take a look at some of our Wear it Purple Day resources for some inspo!
School assembly speech – live or pre-recorded!
Bringing in an inspiring guest speaker to speak at an assembly, or year level meetings is a productive way of educating everyone about the importance of LGBTQIA+ inclusion, and allows rainbow young peoples' stories to feel heard and understood.
We know schools and classrooms around Australia are a little different right now, so we have you covered.
Organise a live-streamed empowerment speech! – Our Education Team can speak to your school or classroom, completely live-streamed, with a chance for a Q&A. Find out more >>
Purchase a pre-recorded assembly speech to stream when it suits you – If it's difficult to get the whole classroom, team or school together at once, why not purchase a pre-recorded assembly speech from our Education Team? Designed to empower schools, it's yours to share and stream until September 6. Grab yours now >>
Raise the rainbow flag
Whether you're in the classroom or online, raising the flag is an incredible way to showcase queer visibility and encourage an inclusive and supportive environment for queer youth. Having an official flag raising ceremony is a super quick and easy way to celebrate Wear It Purple, from wherever you are!
The pride flag is a great message of support for LGBTQIA+ young people and a great way to engage with Wear It Purple Day celebrations. If you're unable to raise the flag in person, streaming the ceremony is a great way to involve students and teachers.
Need a rainbow flag? We got you! Plus, 100% of merch sales go back to supporting LGBTQIA+ youth.
Fundraise with a purple bake sale
Adorable purple cupcakes? YES PLEASE! Hosting a bake sale to celebrate Wear it Purple is a great way to get students and teachers into the spirit of the day, and to raise funds for LGBTQIA+ charities. Not to mention: we have some adorable rainbow cupcake flags in the Minus18 store, and in our new pride packs.
If you're unable to engage in person, why not have a baking session at home or encourage students to bake something purple!
Whether it's a bake sale, a sausage sizzle or a gold-coin donation drive, fundraising is a great way to support LGBTQIA+ youth and make a difference to the lives of rainbow young people!
Encourage your Pride Group to get involved
If your school has a pride group, this is the perfect opportunity to get them involved! By allowing students to assist and plan how YOUR school engages and activates on Wear It Purple Day, it may encourage other students to get more involved!
Ordering one of our free (!) school pride packs is a super easy way to kick off the celebration – each pack includes a bunch of rainbow goodies for everyone! And of course, we have Pride Packs for individuals and for events.
Keep it simple, keep it fun!
Celebrating Wear It Purple Day at school is a great way to educate students and staff about LGBTQIA+ identities, and encourage a safe, inclusive and supportive environment at your school.
Whether it's donating, fundraising, activating virtually or in real life, any action is a positive step towards inclusivity and LGBTQIA+ youth recognition. School-based activation is a great step to make young rainbow people feel supported and safe in an environment that they exist in.
Any donations, or fundraisers made by schools go directly to supporting LGBTQIA+ youth in Australia, and every little bit counts and helps foster a safer, more supportive and more inclusive environment for young queer people.