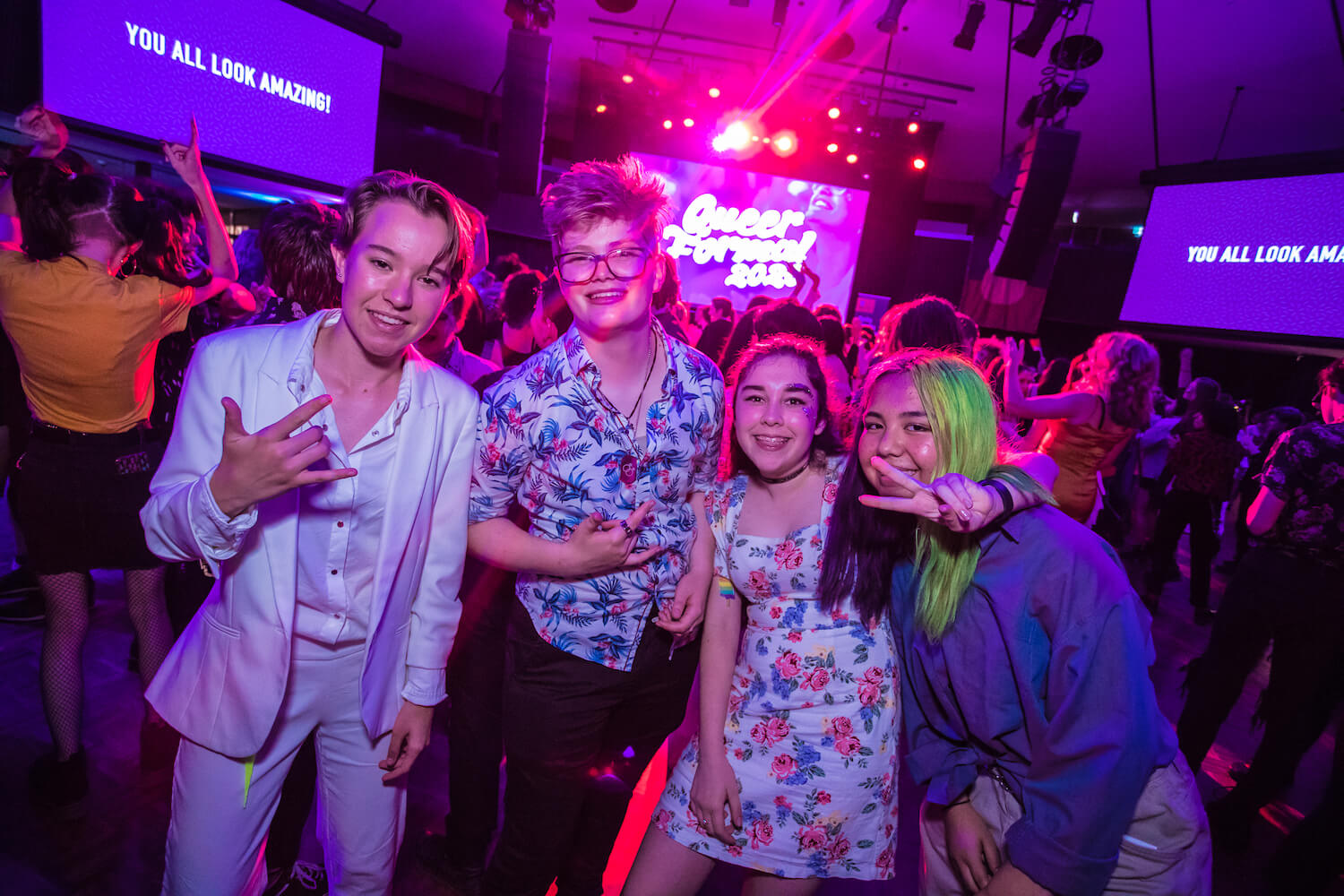 How to host a Sydney Queer Formal Online watch party
We'd love nothing more than to celebrate with you all IRL in Sydney, but we're not letting the 'Rona bring us down! And you know what? A digital event also means that all LGBTQIA+ young people can attend Mardi Gras online with us. No matter where you are in Australia.
So. Here's how to host an amazing Watch Party with your mates – you can have your own Queer Formal at home on Saturday 27 Feb!
And if you're an adult from a youth organisation? We got you too. Fill in this form to receive a special Youth Org ticket, and a discount code for our store.
1. First, grab a ticket!
An important first step! Grab your ticket to Queer Formal Online – registrations are completely free, but absolutely essential. And they're not unlimited, so don't miss out!
2. Invite your friends!
Next, invite your crew! Queer Formal is an event for LGBTQIA+ youth and their mates, aged 12 to 19. That last bit's important – we ask that you please don't invite any pals that are over the age of 19. Parents or guardians are a-okay though.
But remember: make sure you're being COVID safe! Check rules and restrictions around social distancing and safety in your city before you make big plans. Your health is priority number one!
3. Decorate your space!
Here comes the fun part! One of our favourite ways to get into the mood of an online event, and really set an atmosphere, is by decorating.
You could use:
Tinsel curtains (like from Kmart or Big W or similar stores)
Rainbow, trans and pride flags!
Glitter! Just like in real life at Queer Formal, we love using bio glitter on our faces
Christmas / fairy lights, disco balls, or even draping fabric over lamps in your space
Our other hot tip? Make sure you have snacks!
4. Dress to impress!
One of our absolute fave parts of Queer Formal is the excuse to wear something fancy – whatever that means to you! Wear your formal best, wear something outrageous, or just wear something that makes YOU feel like your best, most wonderful self.
Follow your heart!
5. Don't forget the tech side!
Reduce stress by figuring out any tech elements before the night. Double check your internet connection, download Zoom (especially if you want to join in the chat), and if you're planning on streaming the event on your TV or projector – have a go at setting it up in the leadup to Queer Formal.
No one has time for surprise stress moments when you're about to have a party!
6. Don't forget to tag us!
We love to see what you get up to at Minus18 digital events! We'll be re-sharing your Insta stories and posts all night, to really make it feel like we're in it together, even if we're apart.
Tag us @minus18youth, along with our amazing artists.
7. Seriously though – do it your way!
Remember: have fun! And you know what, there's no single, definitive way to host a watch party or to do Queer Formal online. Do what feels best for YOU and your mates.
And if you'd prefer to tune in solo? That's absolutely fine too! Some folks will be tuning in without anyone knowing because they're not "out" – and that's no less valid a way to tune in. Do it in your unique way.
We'll see you on Feb 27 at Queer Formal Online!
Info for adults and youth organisations
If you're an adult or a parent organising a Watch Party on behalf of a youth organisation, that's great! We've whipped up a nifty guide just for you.
Register to receive our guide, ticketing link and store discount! >>