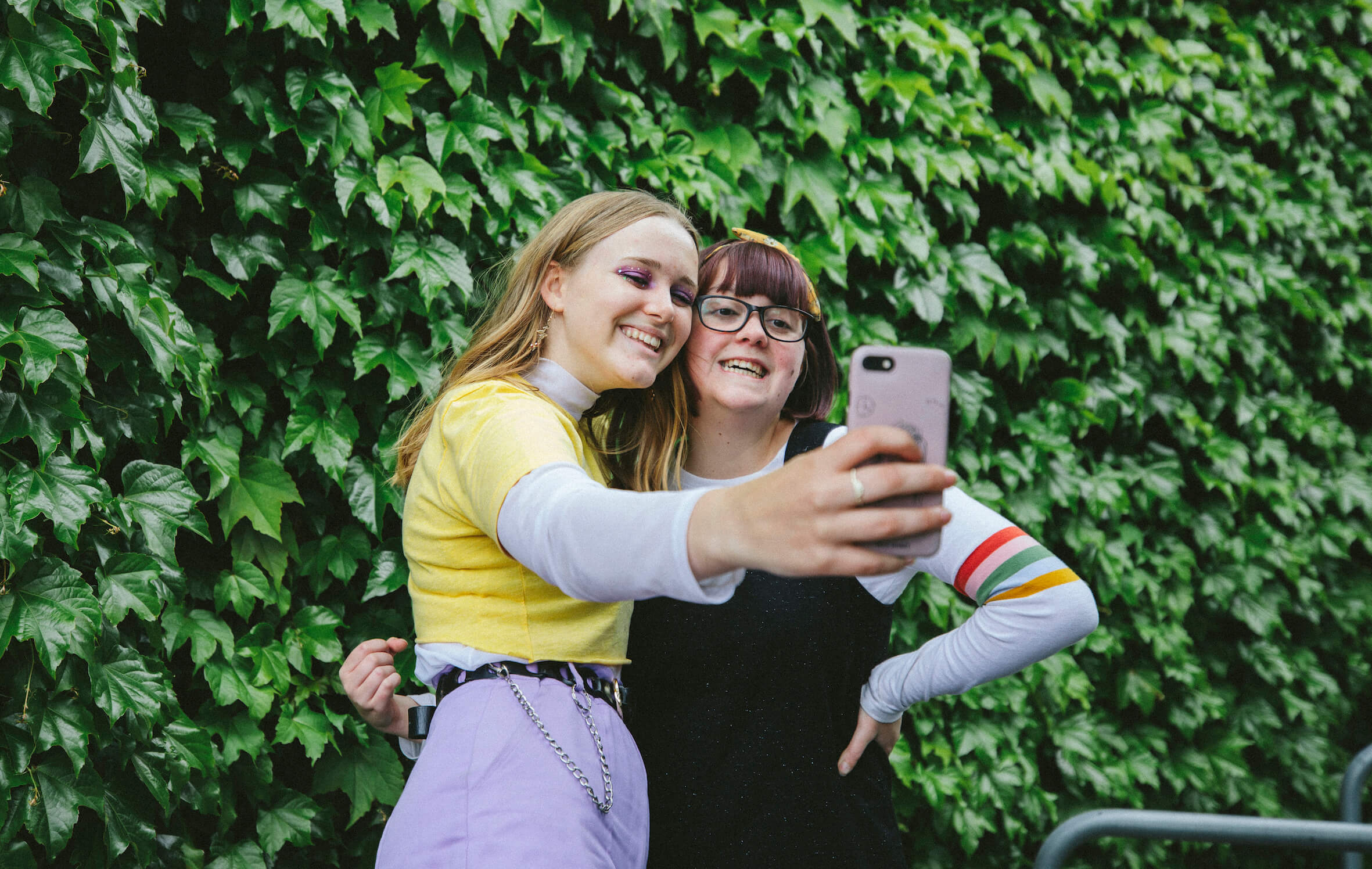 How to stay connected online during #StayHome
Sometimes all it takes is one person to get a hangout sesh going. Give yourself something to look forward to throughout the week and organise some cute things to do with your fave humans. It might help make life feel a little more normal - a cheeky bit of routine can work wonders!
There's stacks you can do as a group
There are heaps of sites that make it easy to connect with mates over your fave content - as the old saying goes, pals that stan together, stay together.
Make a collaborative playlist
Mash together all of your favourite songs as a group to rock out to in your room/lounge room/backyard. It's kind of like having your own set of personal DJs, but you get to keep the setlist!
Get a Netflix watch party started
...along with a pact that you'll only watch this series together. Bonus points if this kicks off a bunch of new in-jokes you'll forever refer to as 'hey, remember that time we were in iso…?'
Get out your virtual pen and paper
If there's ever been a time for pen pals it's now! Side-step the delays in #StayHome post and jump onto your email to get those creative juices flowing. You could even take on characters and create a story together through the letters you write.
Play online games together
Whether it be through your fave console, a multiplayer app on your phone (there are some seriously decent ones out there), or even a tabletop simulator on your computer to just hang around and play cards on, gaming is a seriously great way to chill and tune out the world for a while.
Connecting with your iso cutie 101
If you have a bestie or a mebbe-more-than-pals human in your life right now, feeling close to them might be a little harder than usual. Try to think of this as an opportunity to get to know each other in new ways - this is the kind of time of separation they make movies about! Dreamy af, right?
Let them know you're missing them and remember - this is all temporary.
Get stuck into an art project
Get queer and creative together while on video chat - find inspo online and make something to decorate your room, a statement piece for your latest drag look, or a cute little gift to exchange when we're back irl!
Start a book series together
Order matching copies of the same physical book, or download one online that you take turns reading to each other from - nothing brings people together quite like shipping characters no one else knows about.
Hold an iso-photoshoot for each other
Whip out your palettes and hang out on video chat while you beat that face for the heavens - then coach one another through picture-perfect posing and screenshot their next season's worth of Insta stories.
Put on your headphones and hang outside for a bit
Go on a virtual walk together, stretch in your backyard in the sun for a while or scope out some cute locations around your neighbourhood for post-iso Tik Toks.
Stay in touch, and stay safe
Sending pics
Sending our friends photos as a way of showing them the world through our eyes is a really great way of staying in touch when we'd normally hang out irl. It's important to remember that you are in control of what you send to others, and at no point do you ever have to send photos of anything you're not comfortable with other people seeing.
Be mindful of who you talk to
Especially when talking to people you don't know. It's pretty easy for someone to slide into your DMs, so just be careful to keep things like your full name, your location and any personal details private.
If someone asks you for information you're not comfortable giving out, you could say: 'I don't give out my passwords, sorry! That's a boundary of mine.'
Block, delete, repeat
It's totally okay to tell someone you're not comfortable with sharing certain information - and even easier to block someone who makes you uncomfortable. If they try to convince you otherwise, and it feels as though they're actively trying to cross a boundary you've made clear, take your time and attention elsewhere.
This could sound like: 'Hey, I know you're really keen on getting my Netflix password, but I've told you I don't give out my passwords as a rule. I feel as though you're not respecting that, so I'm going to head off for the night. Have a good one!'
Just because you can hang out, doesn't mean you have to
'The pressure to be hyper connected is real right now. But just because you're sitting at home doesn't mean to need to be available to chat 24/7.'
It's not as if we're doing anything else... right? If switching off from social media for a little while each day is something you need, here's a few ideas to help make that happen:
You call the shots
You might decide that you only feel up to jumping in on House Party between 5pm and 9pm, or only tuning in to live streams with your friends on weekends. Letting your friends know you'll be signing off for the night is a great way to carve out some space away from group chats without leaving your mates hanging.
Set expectations
Organise video chats with a time to meet like you would irl - prioritise the down time you're needing so you can be your best, recharged self when you jump online.
'Can't wait to hang out! Let's call at 6pm. I'm getting some solo hangs in with my cat before the Zoom party tonight.'
You. Don't. Have. To. Answer.
Staying in touch is one of the ways you can be a good friend, but exactly what 'staying in touch' means is up to you. Feeling pressured to drop what you're doing and answer texts immediately can sometimes take away your sense of control over your own time, and might leave you feeling a little anxious. It's totally okay to get back to people when and if you want to, and let them know how you're feeling if they get a little worried about you.
Staying connected with your favourite humans is one of the best ways to take care of yourself during this really weird time. The connections you have with other people are all important for different reasons, and what they look like is up to you.
And, with a little bravery, you can be the person that reaches out and brings people together. Not sure where to start? Stay connected online through Minus18! BYO rad humans and we'll sort out the rest.
Check out what awesome online events we have coming up here.
Keep up with our socials on Insta and Facebook.
Become a part of the community in our Minus18 TEENS Facebook group!