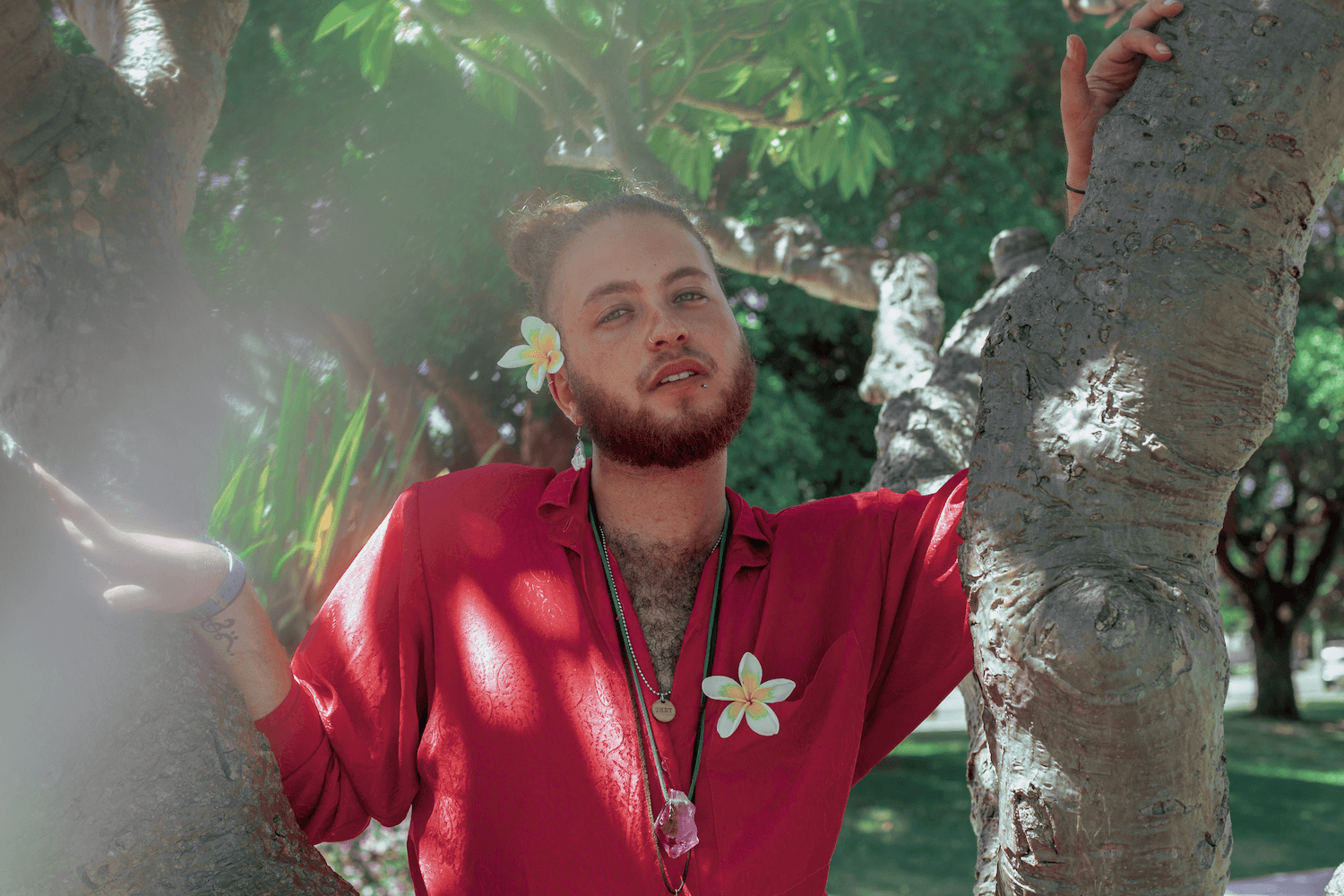 We ask Nevo Zisin: Can your sexuality or gender identity change over time?
We get asked heaps of questions here at Minus18 HQ – about gender, family, school, allyship, and coming out. One of the most frequently asked questions is whether your sexuality or gender identity can change over time. Whether it's okay to come out multiple times, or to find that a label that once fit perfectly doesn't quite work anymore.
The short answer? Yes! Of course!
As for the long answer – we'll leave that to acclaimed queer, non-binary writer, activist and public speaker, Nevo Zisin.
Can someone's sexuality or gender identity change over time?
Yes, absolutely! Sexuality, as well as gender, can be incredibly fluid.
I have identified as so many things throughout my life. I was assigned female at birth, I came out as bisexual when I was 14 and then as a lesbian at 15. After a few years I realised that didn't quite fit right for me either, and I came out as a binary trans man.
I really thought that would be the end of my comings-out, but as I got to know myself better, breathe and expand more, meet other queer people, I felt more and more non-binary and fluid in my gender and sexuality.
Now I identify as non-binary, queer and trans. My relationship with my gender changes over time, and also with the seasons. I am a complicated mosaic of masculinity and femininity and that's just who I am. My sexuality is also informed by where I'm at – my mental health, other things going on in my life. Many of us experience fluctuations in our sexuality – even cis het people!
Besides, almost every single LGBTIQA+ person I've met in my life has been told at some stage that their gender or sexuality is a 'phase' – which indicates that in some way, everyone thinks these categories are fluid.
Age doesn't matter – you can evolve and change at any point in your life!
I think this fluidity exists at any age! That said, I do remember feeling stressed when I was younger and I came out as a lesbian, that I would never be able to change my mind. I was worried, 'What if I fall in love with a man? Then that will prove to everyone that it was a phase!'
Here's the thing: everything is a phase! Childhood, high school (thank god, am I right?), university, the different jobs you have, your relationships – they're all phases! But just because something might be short-lived, it doesn't mean it isn't real or doesn't impact you. So don't worry too much about something being a phase, or being perceived as a phase. Don't block yourself off from evolution and growth and change, because that's exactly what life is all about!
You're allowed to not have all of the answers and you're totally allowed to just be figuring things out – even if you're figuring it out forever.
Everyone's experience of figuring out their identity is different
Getting to know myself and all the intricacies of who I am is a full-time job. I spend a lot of time reflecting, going to therapy and speaking in depth about my feelings to my friends. All of these things have absolutely saved me and helped me to better understand who I am.
Being really open and vulnerable about my identity has allowed me to lean into the sore spots and discover new truths, it's something I've never really shied away from. Additionally, surrounding myself with other queer people who live proudly and openly has taught me new things about my identity.
I felt myself shift and grow in high school, and I guess gender dysphoria was a pretty big factor in understanding that I was trans – as well as gender euphoria! Not every trans /gender diverse (TGD) person experiences dysphoria, and that doesn't make you any less trans / gender diverse. But I do believe that most TGD people experience gender euphoria – the overwhelming joy at feeling gendered correctly, or embodying your full self and being seen for it.
I think that can be a really good indication of a shifting identity. I felt that a lot after beginning my medical transition and then presenting more femme and feeling amazing, I was like, 'This is new, and I love it!'
There's no one-size-fits-all way of coming-out
Coming-out is deeply personal (and also might not even be something you want to do at all, and that's okay). You know your family and yourself best. I think having some resources to offer can be really helpful, so that you don't have to do all of the educating yourself.
I actually have a new book coming out soon called The Pronoun Lowdown so that could be specifically helpful if you're changing your pronouns and are worried your family / friends may not understand!
Feeling supported makes a huge difference
When I came out, I felt really supported by the Jewish community I grew up in and my friends around me. I was welcomed with open arms as a lesbian, and although my transgender identity was much more confusing for people (keep in mind this was 2013, so there was no Laverne Cox in the media or really any trans representation at all), I never felt like I had no one around me, which is obviously a huge privilege.
My closest friendship group was really amazing and so was my partner at the time, and I feel really lucky for that. My family was much harder to navigate through my coming-out as trans, but sometimes these things are a slow-burn. They can take a lot of time, but eventually things settle and are okay. That's not always the case, but it is important to know that just because something is hard right now, doesn't mean it's always going to be.
If you need support, support is there for you. Reach out!
There are some great resources out there available for LGBTQIA+ young people. I really recommend all of the resources Minus18 offers. I was so lucky to have found Minus18 when I was 15. Attending social events and being part of those online spaces was so helpful for me in feeling less isolated.
Switchboard also provides really amazing support. They even offer different formats for receiving support, like over the phone, or web chat (which I enjoy because phone calls sometimes give me anxiety). The best thing to do when you're struggling is to reach out – even just speaking to a trusted adult. There are people who want to help, I promise.
Allies, listen up! We got tips for you too.
The more proactive you can be in your learning, the better. Buy books, watch panel discussions, listen to podcasts. There is so much information out there nowadays, and with the internet at your disposal there's no longer any excuse for not engaging. Even watching TikToks by LGBTIQA+ content creators can be a great place to start – you'll learn a lot!
Not relying on your family member or friend to do all of the educating is one of the best ways you can be an ally, so that they can just be themselves and not have to be your teacher.
Continue to ask questions: 'How can I best support you?', 'Do you have any resources you might recommend?', 'Is there any way I can be a better ally for you?' As soon as you feel like you're done, and doing the best job you can, that's probably when you're not! So keep asking, keep exploring and keep growing.
And please, don't make it about yourself and centre your own experience – this isn't about you, and that's okay.
Do you have any general words of advice for young LGBTQIA+ folks?
You're allowed to not have all the answers right now. Lean into the grey space of not knowing and just listen to your body, your gut, your spirit. You are the guardian of your narrative, the author of your own story. Allow space for expansion and experimentation.
Most of all, and above all else, be kind to yourself. You are your own life-long partner, do not put yourself down or punish yourself. You are wonderful, you are magic, and you are enough.
-----
Nevo Zisin (they/them) is a queer, non-binary, Jewish writer, performer, activist and public speaker based in Naarm / Birraranga / Melbourne. They run workshops in schools and professional development trainings in workplaces around transgender identities. They're the author of the award-winning Finding Nevo, a memoir on gender transition, and The Pronoun Lowdown, which is set for a March 2021 release.
Nevo is a mentor for The Pinnacle Foundation, one of Out for Australia's 30 Under 30 in 2019, an ambassador for both Wear It Purple and the Victorian Pride Centre as well as a member of the cast of Gender Euphoria - Australia's largest all trans and gender diverse show on a main stage.
Photo by Norelle Bladon for Otherness.Us