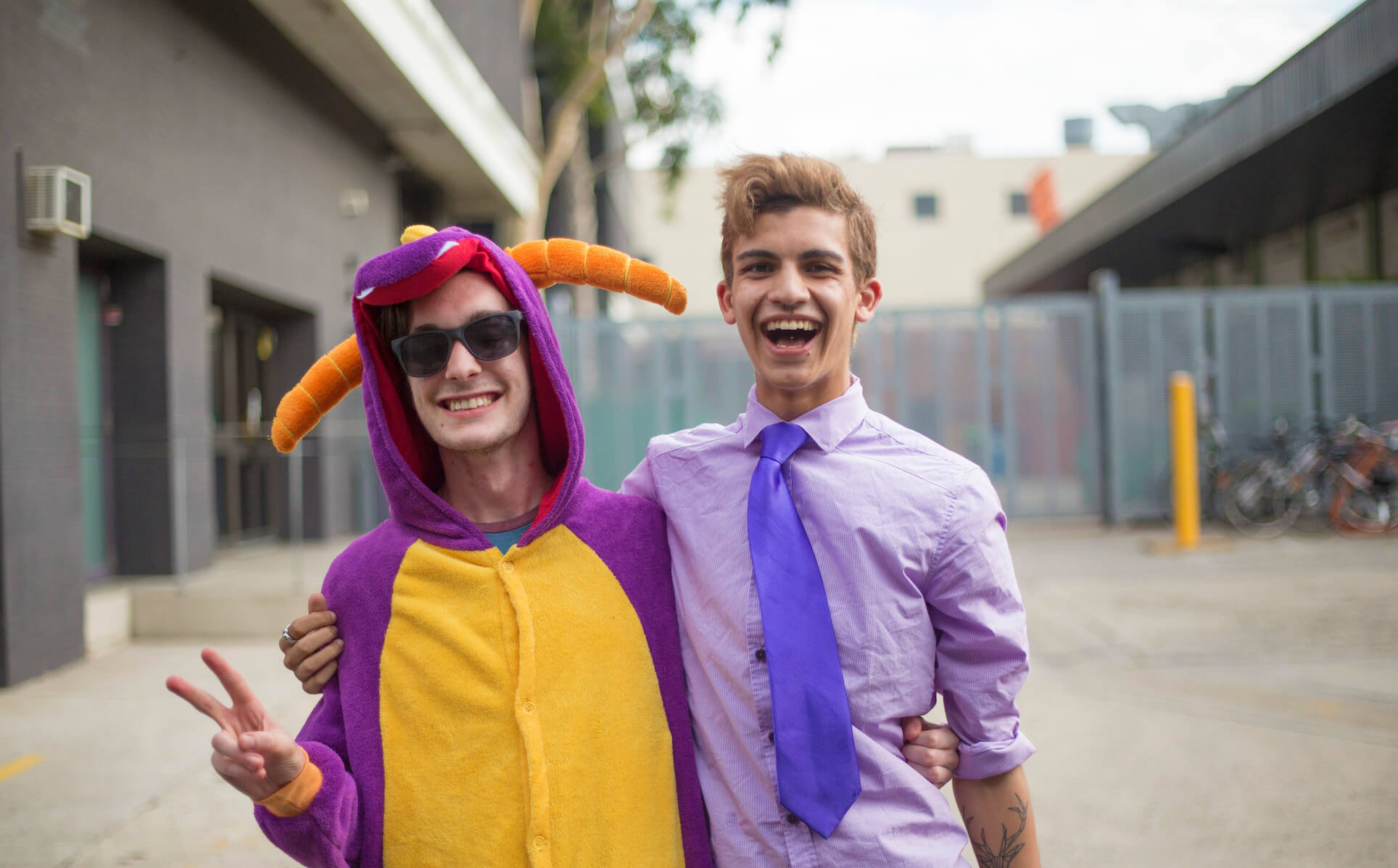 What is Wear it Purple Day?
On the last Friday of every year, we celebrate Wear it Purple Day. A yearly awareness and visibility campaign, it's a chance for the whole community – LGBTQIA+ folks and straight allies – to celebrate the spirit of LGBTQIA+ youth. It's a day of fundraising, events, fun, LOTS OF PURPLE, and building each other up. Especially queer young people.
In 2021, Wear it Purple Day falls on Friday August 27 – and Minus18 is going all out for the occasion. But how exactly did Wear it Purple Day come to exist?
Wear it Purple began in 2010, after a global response to news stories of bullying and harassment and its impact on LGBTQIA+ teenagers, including a number who took their own life. The community came together in response – first with with overwhelming grief, then by taking action with a day of support, education and and fundraising.
Now? Wear it Purple Day has grown to ensure every young person knows they are loved, they are supported, and that they are part of a global community.
How do I celebrate Wear it Purple Day?
There's no one single, correct way to do Wear it Purple Day – especially during times as uncertain and topsy turvy as the ones we're in now! States and cities are in various stages of restrictions and lockdowns, some schools are remote learning. Some of us have returned to work, some workplaces continue to work digitally – and some are doing a little of both!
That said, there are still loads of ways to celebrate Wear it Purple Day, support LGBTQIA+ youth, and bring your community together – whether that's your school, office posse, sports club, community group or group of friends.
Head to our handy Wear it Purple page to download a free toolkit filled with handy tips for hosting an amazing Wear it Purple Day event at school or at work. Plus, we have some amazing cute purple rainbow goodies over at the Minus18 store – like pronoun badges, posters, fridge magnets and Pride Packs – to make sure your day is filled with purple.
Best bit? 100% of proceeds from the store actually goes towards supporting LGBTIQ+ young people. Nice!
How does celebrating Wear it Purple Day make a difference?
Every purple activity – every bake sale, purple themed digital meeting, social media post, or org-wide celebration – sends a vital message of support to LGBTQIA+ young people. It says, "You are loved, and supported".
It's also the perfect chance to start important conversations at work or school. How ARE you supporting the LGBTQIA+ folks in your community? What can you do to make your spaces more inclusive and safe? How are you being allies?
Combine those conversations with LGBTQIA+ education and fundraising in support of charities that support rainbow youth every day of the week? Then you're making some lasting, positive change in your world.
In fact, in 2020, over 95% of people who hosted a Wear it Purple Day activity or event said doing so had a positive impact on their community.
Wear it Purple at work!
If you're working in person? Morning teas, after work drinks, bake sales, panel discussions and Lunch n' Learn events are tried and true classics.
If you're one of the many, many workplaces working from home at the moment? Keep it simple! Do a purple themed morning meeting, get around some of our purple Zoom backgrounds, or post messages of support to queer youth from your organisation on social media. There are so many ways to adapt your events for remote work, and keep the team connected.
Purchase a Pride Pack! Different sizes available for your desk or WFH zone, your office, or your event.
Ready to level-up your event? Organise a Minus18 keynote or virtual professional training for your team.
Wear it Purple at school!
Events at school for Wear it Purple Day could range from an assembly, lunchtime bake sale, fundraiser casual dress day classroom activation, or even a morning tea in the staff room. There's no wrong way to do it!
And if you're remote learning? How about a purple dress-up moment with the class, sending out a special newsletter from the whole school staff, or recording messages from teachers to post online.
Purchase a Pride Pack! As always, we have a version for schools, and one for events.