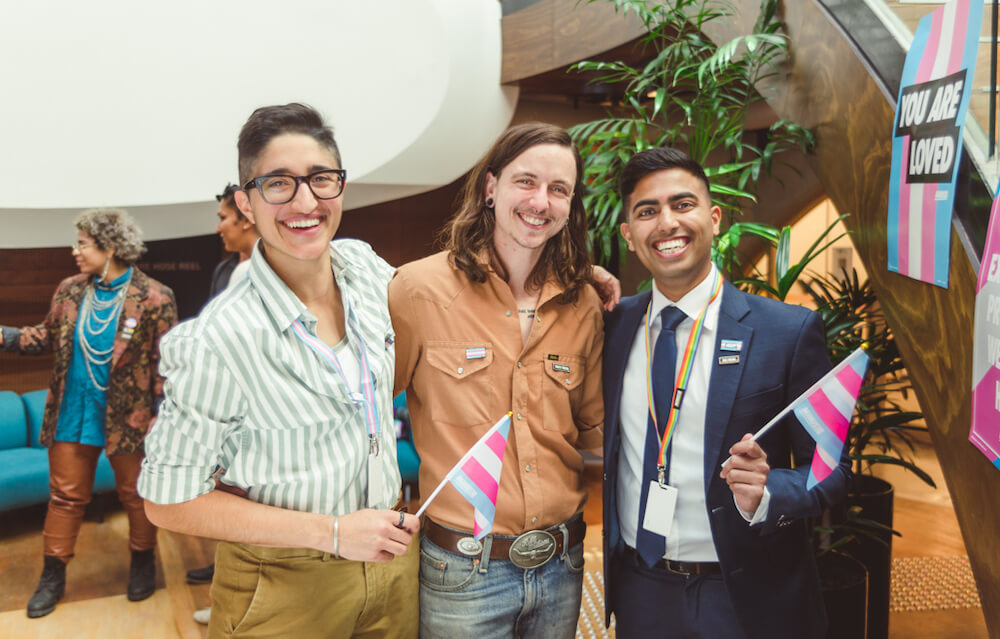 What to talk about during Trans Awareness Week
It's Trans Awareness Week! It's a week of celebrating trans pride, and it's also a week-long opportunity for trans allies (and soon-to-be trans allies!) to engage in education and learn how to elevate the voices of our community. So. It's important to back up your activity with conversation, and meaningful actions.
If you're just starting to learn about gender diversity and allyship, it can be can be hard to know how to get started! Here's your guide to creating meaningful conversation at work, school and beyond on Trans Awareness Week.
Firstly, remember that each and every one of our Trans Awareness Week Pride Packs come with educational posters filled with ways to be a trans ally (no matter your level of knowledge), along with conversation cards to get your team chatting about what the week's truly about. You're even able to purchase packs of education cards to use all year round!
Here are some of our favourite ways to get conversation started during Trans Awareness Week about what we can all do to stand with our trans colleagues, clients, students, friends, and family.
WHY WE CELEBRATE TRANS AWARENESS WEEK
Trans Awareness Week is a chance to celebrate the wonderful trans and gender diverse community. And it's also the perfect, ideal time to educate ourselves and those around us about gender diversity, and the importance of being a trans ally. And of course, what being an ally even entails.
Every year, Trans Awareness Week finishes with the whole community observing Trans Day of Remembrance. It's a chance to celebrate the trailblazers throughout history that have fought for trans rights, and honour the ones who have lost their lives due to violence and discrimination.
It's important to note that this sort of violence still exists, and isn't just an ugly footnote in history – and that's exactly the reason why Trans Awareness Week is so, so important.
What to watch
Our absolute top pick? The Dreamlife of Georgie Stone was released earlier this year on Netflix, and has received wonderful reviews at film festivals around the world. Created over about a decade (!), and spanning 19 years, it's a documentary about actress, advocate and trans icon Georgie Stone.

Seriously though – this 29-minute documentary is a vital, and wonderful watch. Following Georgie and her family as she change laws, affirms her gender, and becomes an adult, it's an intimate portrait of a trans young person, and a nuanced, hopeful meditation on the importance of trans rights, and inclusion.
We also created a series of parent resources, along with a wonderful series of short films featuring trans and gender diverse young people.
Conversation starters
How can we visibly and tangibly be an ally to the trans and gender diverse community?
Why is this visibility so important?
THE IMPORTANCE OF PRONOUNS
Having meaningful conversations can be tough sometimes, so a really great way to incite meaningful discussion is to lead by example. We've found that pronouns are a great springboard for education, and action when it comes to gender diversity.
You could wear a pronoun badge on your lapel or lanyard, and use that as way to start a conversation with your friends, family or colleagues about the importance of respecting pronouns and gender-neutral language. Displaying your pronouns lets others know you'll respect theirs, and normalises conversations about gender.
If someone in your team or group of mates is new to pronouns, that's okay! That's what Trans Awareness Week is all about – learning, and getting the conversation started. And our Pride Packs are filled with pronoun-related tips!
What to watch:
We made a nifty video all about pronouns! It's super popular, and doesn't assume prior knowledge.
Conversation starters:
Wearing a pronoun badge is great! So is adding your pronouns to your email signature – it's an action everyone can take in honour of Trans Awareness Week
Why would seeing an adult respect their pronouns make a big impact to a trans young person?
Practice using gender neutral language when referring to someone you don't know / that you've just met.
SUPPORTING COLLEAGUES AND CLIENTS AT WORK
If there's one thing we know, it's that in a workplace, levels of knowledge when it comes to gender diversity and trans allyship are likely going to vary. Our Education Team is here to help – whether you're doing it in person, or digitally.
Attend our Education event as a team
This ticketed, digitally live-streamed event is an Introduction to Trans Allyship, framed around Trans Awareness Week. This is our full-blown LGBTQIA+ training, with a chance to ask questions throughout.
Conversation starters:
Main takeaways from the training session
If someone tells a joke that's a little off, how can we gently let them know?
Are there ways we can make our office more inclusive?
BEING A TRANS ALLY AT SCHOOL
Although schools are looking a little bit different at the moment all over the country, there are still some really great ways to inspire conversation amongst students and staff during Trans Awareness Week.
Listening to others' experiences is another really easy way of inciting conversation, and being open to different experiences from different people. And when someone in class cracks a transphobic joke, letting them know that that isn't funny lets trans students (and those that might be figuring out their identity) that they are supported. Standing up against discrimination is a massive way to make an impact and raise awareness.
Videos and content
Earlier this year we recorded a wonderful series of videos (with accompanying articles!) all about parents supporting their LGBTQIA+ children. The videos include perspectives from parents with trans children, but the whole series is a great look at supporting young people, no matter their identity.
Plus, we have HEAPS of articles, filled with tips, information, and guides written with young people in mind.
Know what's most important? Having a good time!
Trans Awareness Week is all celebrating trans pride, and allyship! So make sure you have a good time, and celebrate, along with starting all those important conversations. And remember, trans allyship doesn't stop when Trans Awareness Week is over – make sure your activity inspires meaningful action year-round!