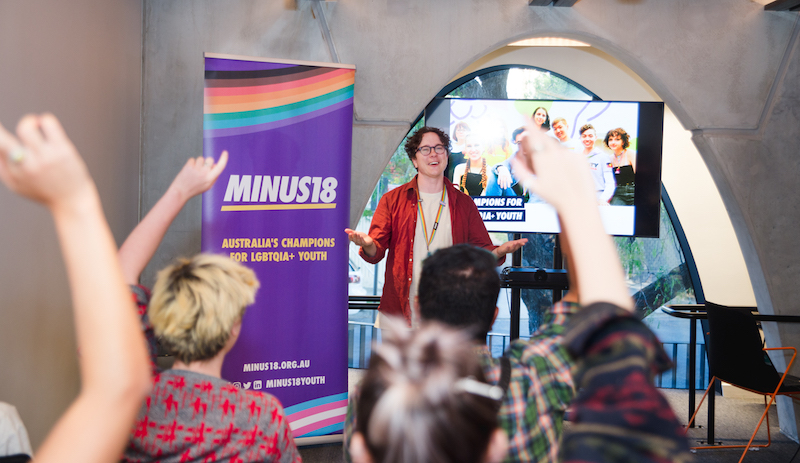 Pride Month Donations Funding Free LGBTQIA+ Education for Schools
Minus18 is dedicating every single tax-deductible donation made during June to creating free LGBTQIA+ education workshops for Australian schools to equip students and teachers with the skills and knowledge to stand out against LGBTQIA+ discrimination.
Throughout June – Pride Month, and the end of the financial year – Minus18 is fundraising to create free LGBTQIA+ education workshops for schools across the country. 
Our goal: to deliver 50 free workshops, impacting upwards of 3,500 young people, teachers, and peers. 
And every $20 donation enables one more student to access these workshops. 
With your support, we'll prioritise these workshops to schools and groups that need them most – regional and rural schools, schools that don't have the budget to purchase inclusion workshops. 
Why? Because the recent spate of violent threats against drag shows, community events, and rhetoric directly targeting queer young people has made it clear that LGBTQIA+ discrimination still exists, despite how far we've come. 
It's more important than ever to stand with queer youth, and to create communities, schools, and classrooms that actively promote LGBTQIA+ inclusion. This pride month, take action and have a tangible impact by supporting our work – every single tax-deductible donation directly enables us to deliver one more workshop to a regional school; supports an Australian school to engage with LGBTQIA+ education; enables one more student to attend. 
How will this work? 
We'll begin delivering these free LGBTQIA+ workshops in the new financial year – so from July 2023 onwards. Once June is over, we'll know exactly how many LGBTQIA+ education sessions we can provide to schools, classrooms, students, and teachers. 
What will the education sessions cover? 
Find out more about:
So, if you're a school and you're interested in a session – you can get in touch today to talk to us about your group, your requirements. Minus18 will prioritise these workshops for those who need it most – including schools who are under-resourced, in regional and rural communities, and schools working with diverse young people.
Help us impact 3,500+ students and teachers
Whether you're making a donation as a long-time supporter of Minus18 or a brand new ally; to support an LGBTQIA+ young person in your life or via a workplace EOFY fundraiser – know that this Pride Month every single tax-deductible donation will have a real, tangible impact on over 50 schools around the country.