B5: Victorian Schools Mental Health Menu (Student Workshops)
Access Minus18 workshops and training as an approved provider of LGBTQIA+ inclusion workshops for students on the Victorian Department of Education Schools Mental Health Menu
Learning outcomes:
Access any of our student offerings through your Victorian Schools Mental Health Menu funding including:
(B1/B2) General Student workshops for all Secondary Students which cover - the basics of LGBTQIA+ identities, empathy through personal stories, understanding the experiences and barriers of students who are LGBTQIA+, celebrating diversity, respect for peers and exploring ways to take action to safely support peers.
(B3) LGBTQIA+ Student Cohort Specific for School Pride Groups which cover - relatable personal narratives, overview of LGBTQIA+ terminology, understanding and exploring challenges faced by LGBTQIA+ people, how to access support, staying connected and exploring leadership through personal empowerment.
More info available via the Vic Department of Education Schools Mental Health Menu
Size

Up to 100 students

For

Years 7 to 12

Duration

90 minutes

Cost

Covered through your Victorian Schools Mental Health Menu funding
Simply put, students who feel safe and supported at school are more engaged and perform better academically.
Our experienced and trained presenters are here to help, whether it's in response to a specific incident, supporting a student, empowering a Pride group or equipping teachers with best practices.
Minus18 comes to classroom, teacher team, or school assembly to deliver LGBTQIA+ inclusion and empowerment training that's backed by the latest Australian research.
We interact and engage with our audiences in a variety of ways, however, participants are never required to share personal experiences during the session.
Yes! Minus18 has been delivering workshops in schools across Australia for over nine years, to over 10,000 students and teachers.
Our content is mapped to curriculum outcomes and specialised programs, including Respectful Relationships.
Our LGBTQIA+ student workshops and teacher training are priced competitively based on the cohort size, training duration and your location. We're based in Melbourne, and can deliver training interstate or in regional areas.
Unlike other LGBTQIA+ Inclusion Training, booking with Minus18 means that 100% of the profits go towards programs that support LGBTQIA+ youth - including community events and school workshops.
Get in touch and our team can provide a quote in no time at all.
Our experienced and trained presenters Wilde, Max, Nix and Tessa have a fun and engaging approach – for both students workshops and teacher training.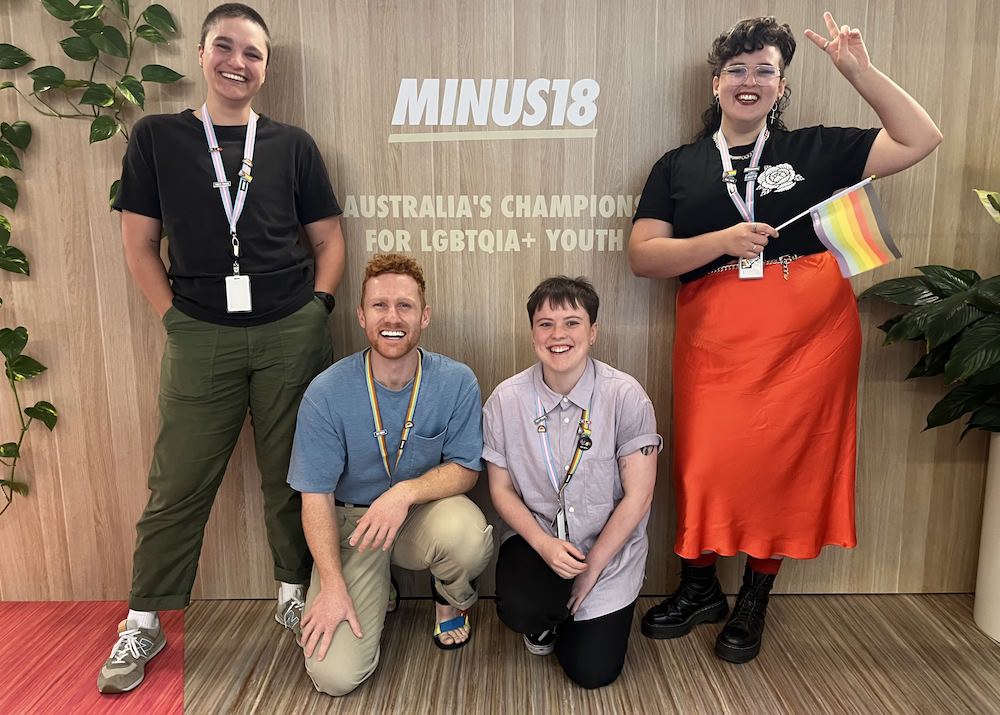 "For those looking to bring LGBTQIA+ inclusion workshops to their school, your first step should be to get in touch with Minus18."
Cameron Bacholer – Deputy Principal, Knox School
We measure our impact. In 2019:
95% of participants would recommend our talks and training to others
95% of participants felt better prepared to support their LGBTQIA+ peers afterwards.
91% of participants said their questions were answered by Minus18 presenters.
To ensure we can deliver the most engaging experience, we require that you provide the following:
All participants must have their own chair
Projector or TV Screen
Computer connected to the screen with HDMI/VGA connections
We also work best when a whiteboard is available.
School staff participating in LGBTQIA+ inclusion training will receive a professional development certificate to certify training completion.
C1: Creating LGBTQIA+ Inclusive Classrooms
Explore LGBTQIA+ identity, the barriers students face in everyday life, and empower staff with the tools to become inclusive leaders.
More information
C3: Victorian Schools Mental Health Menu (Teacher Training)
Access Minus18 workshops and training as an approved provider of LGBTQIA+ inclusion workshops for teachers and school staff on the Victorian Department of Education Schools Mental Health Menu
More information
B4: Assembly Speeches and Keynotes
Inspire your students, staff or parents with a keynote weaving together LGBTQIA+ personal narratives and empowerment.
More information