A3: Foundations of LGBTQIA+ Inclusion Training
Gain the most comprehensive understanding of LGBTQIA+ identities, and the tools to build interpersonal and organisation-wide inclusion. This module is a combination of our A1 and A2 courses.
Learning outcomes:
All outcomes of our 'Introduction to Sexuality and Gender Identity' module including: key concepts and definitions of sex, gender and sexuality, evidence-based barriers LGBTQIA+ people face at work and accessing services, practical tools to support LGBTQIA+ people interpersonally and professionally.
AND all outcomes of our 'Supporting Trans and Gender Diversity' module including: definitions of varying gender identities, the lived experiences of trans and gender diverse people, medical and social gender transitioning, a rundown of pronouns and how to apply inclusive language.
Tools to build safe and inclusive experiences for clients and customers.
Australian-based research examining barriers and discrimination.
LGBTQIA+ lived-experiences via our expert workshop presenters.
Size

Up to 100 people

For

Adults 18 and over; Any employee or volunteer

Duration

3 hours

Cost

Get in touch
Simply put, workplaces have higher employee engagement and productivity when LGBTQIA+ people feel welcome and supported.
No matter your team's current level of knowledge, we're here to guide you to create LGBTQIA+ inclusion that makes your workplace better for everyone.
Minus18 will deliver in-person or online LGBTQIA+ training to your workplace that's backed by the latest Australian research and best practices.
We interact and engage with our audiences in a variety of ways, however, participants are never required to share personal experiences during the session.
Our LGBTQIA+ professional training is priced competitively, based on the cohort size, training duration and your location. We're based in Melbourne, and can deliver training interstate or in regional areas.
Unlike other LGBTQIA+ inclusion training, booking with Minus18 means that 100% of the profits go back to programs that support LGBTQIA+ youth, including community events and school workshops.
Get in touch and our team can provide a quote for you in no time at all.
Meet our experienced and trained presenters Wilde, Max and Nix!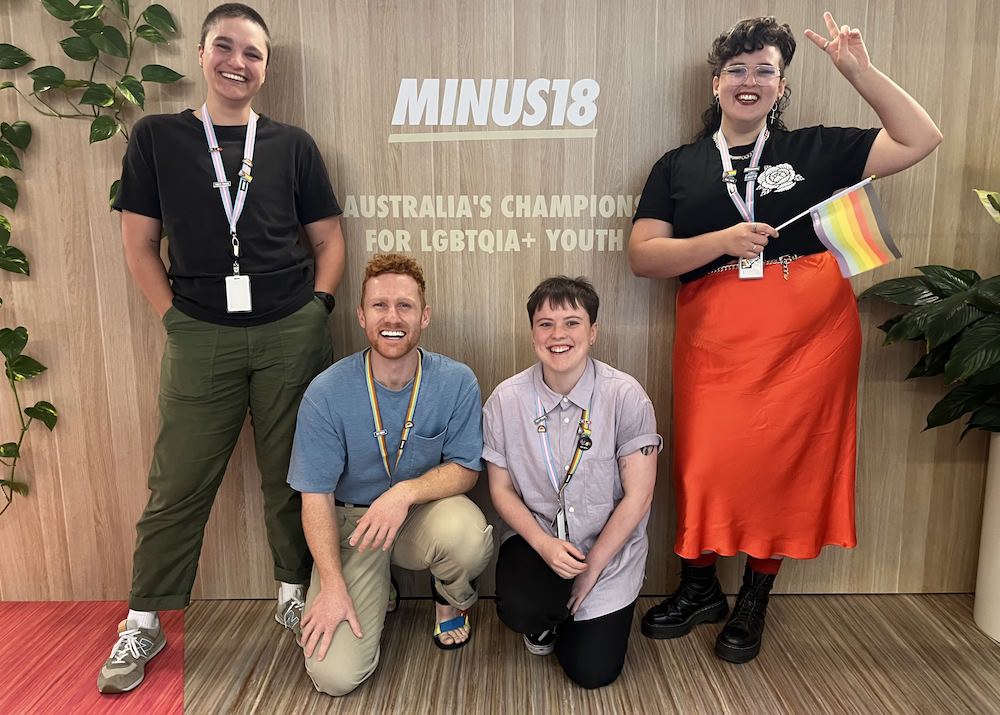 "It was great to have Minus18 join us at Nike – they are fantastic presenters and storytellers. We would highly recommend Minus18 coming to talk with any business to help you with your own diversity and inclusion journey."
– Nike Australia
"Minus18 ran a transgender awareness workshop – we were moved, enlightened and engaged every minute of our time together. We unequivocally recommend Minus18 for any workplace (or group) ready to learn and be a part of making our world welcoming for everyone."
– St Martins Arts Centre
Our impact:
95% of participants recommend our talks and training to others.
95% of participants feel better prepared to support their LGBTQIA+ peers afterwards.
91% of participants say their questions were answered by Minus18 presenters.
To ensure we can deliver the most engaging experience, we require that you provide the following:
All participants must have their own chair
Projector or TV Screen
Computer connected to the screen with HDMI/VGA connections
We also work best when a whiteboard is available
We also run sessions online via Zoom Webinar!
Staff participating in LGBTQIA+ inclusion training will receive a professional development certificate to certify training completion.
Topics covered:
Inclusive language
Introduction to gender and sexuality
LGBTQIA+ lived experiences
LGBTQIA+ identities
Transgender and non-binary identity
Real-life LGBTQIA+ inclusion scenarios
Gender diversity in the workplace
Guide to pronouns and how to use them
A5: Trans Awareness Week Keynote Speakers
Book in a Minus18 keynote speaker for your upcoming Trans Awareness Week activity.
More information
A1: Introduction to Gender and Sexuality Training 101
Be introduced to LGBTQIA+ identities, and lived experiences from the community with our most popular offering for workplaces and services. Empower your team with real-life inclusion scenarios and tools with our renowned LGBTQIA+ inclusion professional training.
More information
A0: Online Virtual LGBTQIA+ Inclusion Training and Professional Development
Any of our renowned LGBTQIA+ professional training is available digitally. Live-stream and chat to our experienced facilitators – for remote workplaces and in-person teams anywhere in Australia.
More information