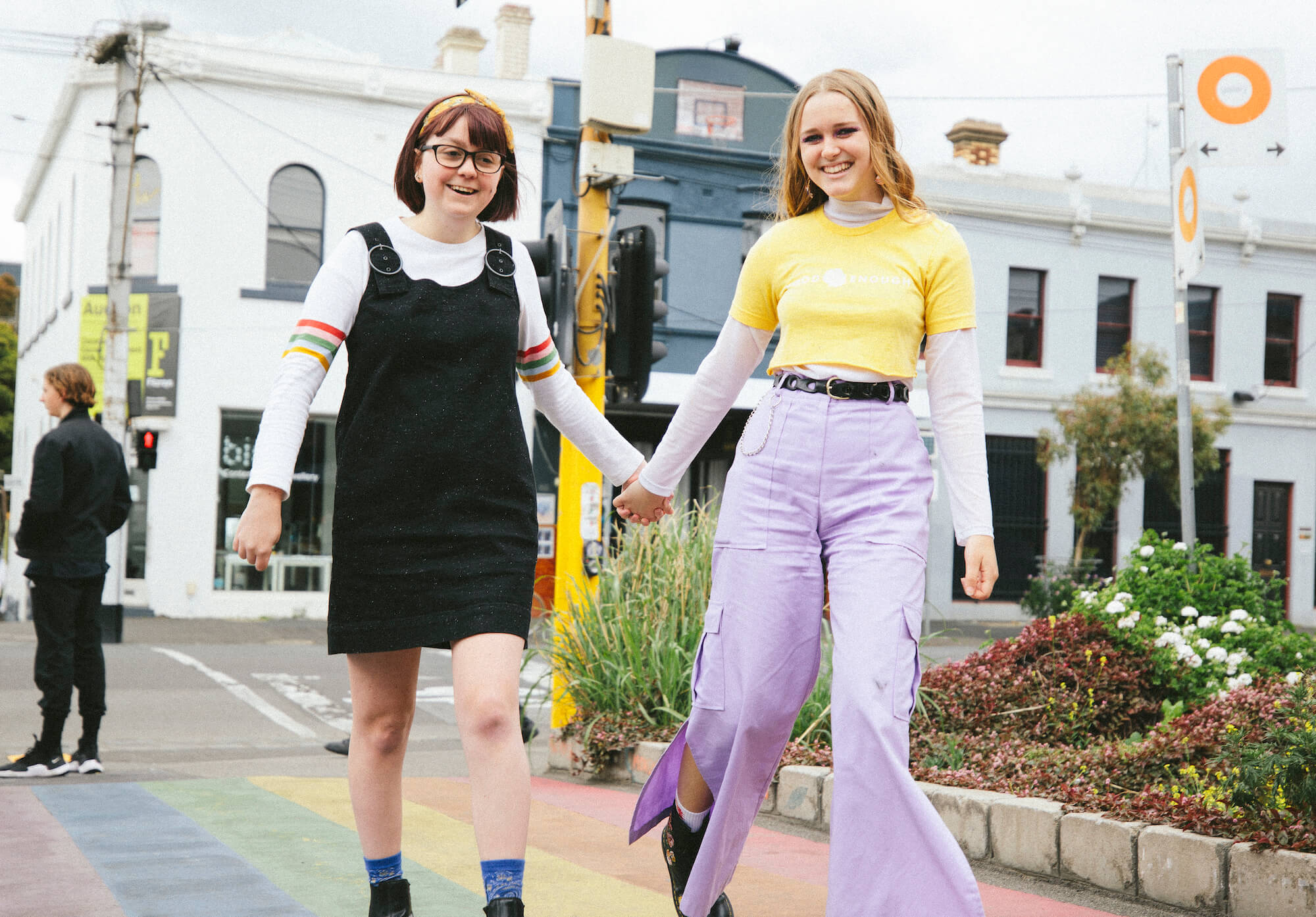 How to make queer friends
Being surrounded by people who really understand you is a great feeling, there's no doubt about it – especially if they share parts of your identity (hint hint: if they're also queer!)
For some people, when they're new to the queer community, it's easy to feel like the only gay in the village. The thought of finding and making queer friends can feel like a huge and daunting task. But don't fret! We're here to help. We've compiled a few tips on how to meet and surround yourself with queer m8s.
Go online!
Hooray for internet friends! So, so, so many queer cuties have found amazing online support networks through social media, particularly if they don't have access to a huge LGBTQIA+ community offline. Online pals can be especially great for regional and rural queers.
There are a tonne of queer groups on Facebook, some with particular focuses or intersections within the community. Have a search around to find one that suits you. We have our MINUS18TEENS facebook group which could be a great place to start!
On Instagram, following a tonne of queer accounts can help you find community within the comments section, as well as rainbow-ing up your news feed.
And if you're over 18… well, there are apps for that ;)
Events and youth network groups
Queer events are normally swarming with – you guessed it – queer people! Whether it's a dance event, a fundraising night, a movie screening or a specialist interest group, you'll be able to meet like-minded people to hang with.
There are queer youth networks all over Australia that you might not know about. They hold events, create safe supportive spaces for queer and questioning people or centre on a particular hobby.
And obviously, Minus18is one of them! We host Queer Formals in Melbourne, Sydney and Adelaide, where over 70% of attendees report making a new friend (we're pretty proud about that). In Melbourne, we occasionally host extra dance parties and other activities too – Pride March to Halloween parties. Stay tuned here, Facebook and Instagram to get all the announcements.
Melbourne and Victoria also boasts a number of queer rock climbing groups and queer craft groups, just to name a couple. We also recommend Queerspace Youth, as they often host events and run programs. Your area could have something similar, so you could try out a new hobby and make some new friends. First step, do some Googling!
Volunteering
Volunteering can be a fantastic way to make queer friends while giving back to the LGBTQIA+ community! Not only that, volunteering looks great on a resume and can be stacks of fun, too. Heck, you can even volunteer with Minus18!
Have a search for any queer organisations in your area and contact them to see if there are any volunteering opportunities available.
Start something yourself!
If you still can't find anyone, you could try starting your own group! It could be a LGBTQIA+ group at school, a Gay Straight Alliance or a community focusing on a certain interest or hobby.
You could start a book club and meet a super cool person from your town that you didn't even know was queer. Yay for friends! Remember, there ARE other queer people who are just like you. And maybe they have a whole group of people they can introduce you to, or they're in the same boat as you, looking for cool new queer friends.
Everyone deserves to have friends around them that understand, support and validate them. Believe us, it can make such a difference in your wellbeing and when something cramps your style. No matter how you go about seeking LGBTQIA+ friends, good luck and get friending!