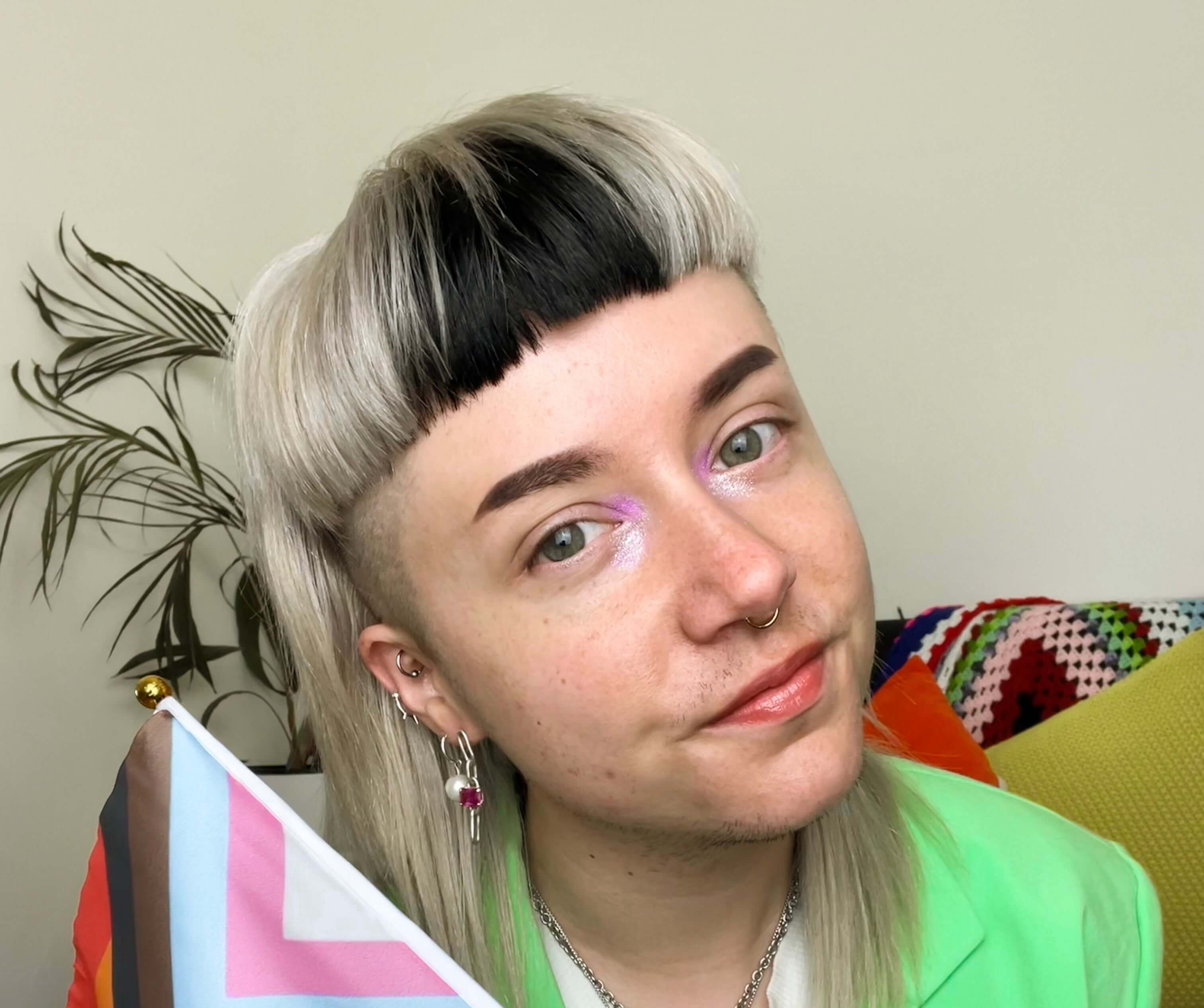 Rudy Jean Rigg: IDAHOBIT Champion
"Wanting to be an ally is already a step in the right direction! When it comes to learning about the LGBTQI+ community, my advice would be to just start. Somewhere, anywhere! It's better to start a little off the mark than not at all."
Rudy Jean Rigg – the host of Rainbow History Class – is a neurodivergent, non-binary trans content creator and LGBTQIA+ advocate. And we're SO excited to announce that he also happens to be one of our illustrious IDAHOBIT champions in 2022!
Over the past couple of years, IDAHOBIT – the International Day of Against LGBTQIA+ Discrimination – has looked a little different when compared to years gone by, due to lockdowns, restrictions, and Covid considerations. IDAHOBIT activations all over the country were largely digital, with classrooms, offices and friends standing out against LGBTQIA+ discrimination through their screens – together, apart. 
It's been interesting, hasn't it? Seeing the ways our lives became more and more digital during Covid? We connected digitally when we couldn't do it in person, engaged with our communities (LGBTQIA+ and otherwise) in digital spaces.
One person who's well and created a digital community – and shared important education while he's at it – is Rudy. Through his TikTok content, Rainbow History Class, he's shared "the queer and trans history you didn't get in high school". He and a team of guest hosts have covered topics like queerness throughout ancient history, gay languages, queer identity explainers, and the history of queer fashion. 
And if there's one thing we know about LGBTQIA+ education? That it is one of the most important parts of creating new LGBTQIA+ allies. 
Here, Rudy shares some of his favourite tips for being an ally – whether it's getting started, or leveling-up your existing allyship. 
Why is IDAHOBIT – a day against discrimination – so important in 2022?
IDAHOBIT is SO important, even in 2022, because it creates a dedicated moment to reflect. It's a chance for the whole community to continue learning, and to take action against the rampant discrimination the LGBTQIA+ community faces every single day. 
What are some ways that YOU are an ally to the greater LGBTQIA+ community, and other communities? (be specific!)
I'm an ally to – and a part of – the LGBTQIA+ and neurodivergent communities. I host Rainbow History Class on TikTok, which shares the queer and trans history that many people wouldn't have received in high school. 
 I also create content that shares my own experiences and learnings as an Autistic/ADHD human being. I proudly represent these communities by always being unapologetically myself! 
Are there any specific topics or issues that really seem to resonate with audiences? 
 Our 'students' (as we call them) love a great combination of both lighthearted and more stern stories and retellings of our community. Our most viewed video is on whether the model for the Mona Lisa was actually a man! And one of my personal favourites has been an exploration of gender expression in indigenous and pre-colonial cultures. 
It can be hard to know how to start being an effective ally if you're just starting out. What's your top tip for those who might want to start being an LGBTQIA+ ally?
First of all, wanting to be an ally is already a step in the right direction! Secondly, when it comes to learning about the LGBTQIA+ community, my advice would be to just start. Somewhere, anywhere! It's better to start a little off the mark than not at all. 
 Here's the important bit, though. Remember, being a good ally means that you have to put your learnings into practice. Don't just practise once – practise all of the time! 
What will you be doing on IDAHOBIT?
I'll be surrounding myself with my loved ones in the community. I'll spend the day learning from those around me, and reflecting on how I can better fight discrimination 
There's a big focus on allyship during IDAHOBIT – what are your top tips for queer young people to be allies to their own greater, larger LGBTQIA+ community and folks with intersecting identities? 
Be conscious in your approach to allyship! Stay open to listening to others, so that you can continue learning about experiences that differ from your own. 
---------
Ready to go rainbow and stand out against LGBTQIA+ discrimination on May 17? NICE!