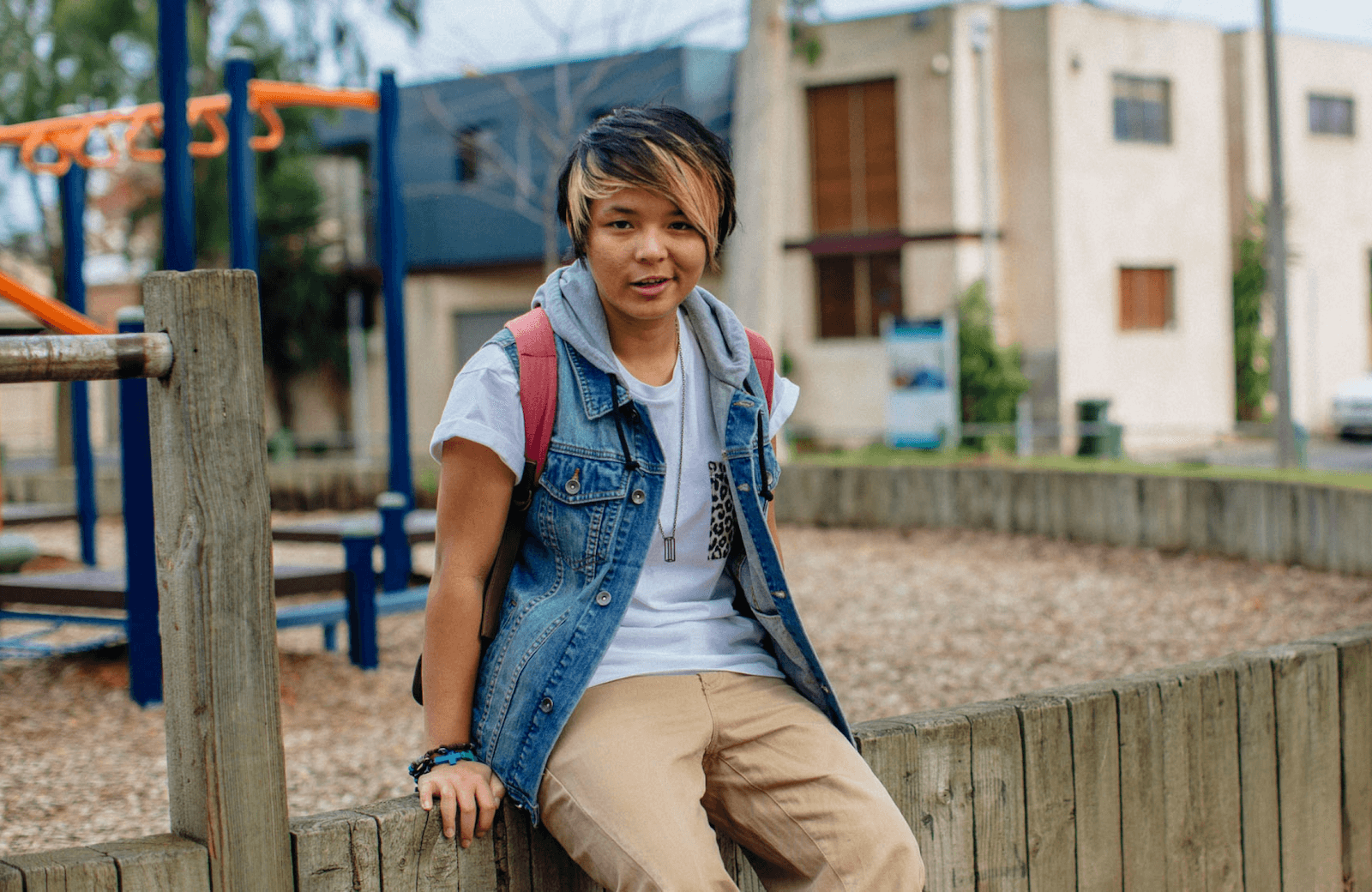 What to do if you've experienced discrimination
The law in Victoria and Australia more broadly makes it pretty clear that it's unlawful for an employer, school, or service provider to treat you badly because of your gender identity, sexuality, or intersex status.
What is and what isn't discrimination can be pretty confusing, but knowledge is power! We've teamed up with Aimee Cooper, from Victoria Legal Aid, to walk us through what exactly discrimination is and what you can do if you've experienced it.
This article will cover a fair bit of information, so here's a tl;dr for you (before you read!):
It is against the law for an employer, school, or service provider to treat you badly because of your gender identity, sexuality, or intersex status.
You can get free and confidential advice about discrimination from Victoria Legal Aid.
It isn't always necessary to go to court in order to get an outcome under discrimination law, your case may be resolved quickly, informally, and confidentially.
Raising your concerns about discrimination can help make things better for the rest of the LGBTI community and reduce discrimination in the future.
What Counts As Discrimination?
Okay! First things first. It's worth mentioning that the definition of gender identity covers both transgender and gender diverse people. Secondly: you do not have to have 'legally' changed your gender marker to have it recognised by your school or workplace.
The definition of sexuality expressly covers being straight, gay, lesbian, and bisexual. It does not expressly cover people who are asexual or pansexual, however it is definitely arguable that these sexualities are covered.
Discrimination can be really direct, like "I'm not hiring you because you are transgender". However, discrimination can also be indirect, such as "students must wear the uniform that aligns with the gender marker on their birth certificate", which disadvantages students who are trans or gender diverse.
Here are some examples of unlawful discrimination:
A school or employer saying that you can't wear the uniform or use the bathroom that corresponds with your gender identity.
A teacher, employer or service provider consistently misgendering you and dead naming you after you have explained to them what your name and pronouns are.
A school asking you not to take a same gender partner to the formal.
A GP refusing to treat you or give you a referral for help to transition.
An employer refusing to hire you, firing you or treating you negatively because of your gender identity, sexuality, or intersex status.
Sometimes you might suspect that your sexuality, gender identity, or intersex status is the reason why you've been treated badly but you might be unsure. It isn't always necessary that discrimination be explicit for it to be unlawful, but you must be able to point to something that suggests your gender identity, sexuality or intersex status is the reason.
For example if you come out as gay to your employer and they fire you the next day, if there is no other timely reason for you to have been fired, you can argue that they fired you because of your sexuality – even though it wasn't the reason they gave you.
If you're unsure whether something might be discrimination it is a good idea to get some advice so you can make an informed decision about what to do.
Where to go to for support and advice
Victoria Legal Aid has a team of lawyers who can give you free advice to you about discrimination law, especially when it relates to sexuality, gender or intersex status. What you tell them is confidential and they can't disclose what you have said to anyone – including your parents – without your permission (unless you or someone else is at imminent risk of serious harm).
It isn't necessary to have parental consent before you speak to a lawyer. The lawyer can speak with you without your parents so long as the lawyer is satisfied that you are capable of giving instructions and understanding their advice.
When you call a lawyer for advice there is absolutely no pressure for you to do anything. It's completely up to you whether you want to make a discrimination complaint or do anything with the advice you're given. Lawyers act on instructions, which means that they can't do anything about your case without your knowledge and consent.
On contacting Victoria Legal Aid you will need to tell them briefly what has happened and the lawyer will explain the relevant laws and whether you might have a discrimination claim. The lawyer can also let you know your options and the process if you would like to make a claim.
If you have a potential discrimination law claim then the lawyer might offer you an appointment to give you some more detailed advice. It is completely up to you whether you do anything further, you might just want to get some advice and leave it at that.
You can visit Victoria Legal Aid's website here or call 1300 792 387.
What's the actual process for making a complaint?
Most people think you have to go to court to get an outcome, but that's not always the case.
The first step might be writing a letter to the organisation you're complaining about, written by a lawyer or by you with their support. It can outline what they've done, how that might breach the law, and what you want them to do to fix it. With this process you might be able to negotiate an outcome without taking any legal action at all.
Another option is to make a discrimination complaint to a human rights commission where a mediation can take place. At the mediation you could reach a settlement agreement with the organisation about the things they'll do to resolve your concerns (eg. if your complaint is that your workplace won't use your preferred name, the outcome you request could be that all preferred names are used for all staff going forward). The human rights commission will keep your complaint confidential as this isn't a public process.
Generally, schools, employers and other businesses won't want a public discrimination case on their hands. It looks really bad for them if there are rumours that say someone has made a discrimination complaint against them (especially if there's media).
This means that these organisations generally want claims to resolve quickly and confidentially. So it is really unlikely that your school, employer, or service provider will "go public" about a complaint you make in a letter or to a human rights commission. Generally they will insist that a term of any settlement agreement with them is that the complaint be kept confidential.
It is only once a complaint is lodged at a Court or a Tribunal that it is a public complaint. However it is possible to have your complaint remain anonymous so that you cannot be identified, particularly if you are under 18.
It is a good idea to get some advice before lodging a discrimination complaint because you have multiple options and a lawyer can help you identify which option is best for you.
What are the outcomes?
In the early stages where you're negotiating, the outcome can be anything that you and the organisation are willing to agree on.
You can make a real difference to everyone by raising your complaint with an organisation, as this forces them to educate themselves about their obligations and makes it less likely that they will treat other LGBTQIA+ people badly in the future. Basically, standing up for your rights can help make things better for everyone else.
Here are some examples of things you could include in a settlement agreement:
Your employer or school agree to make changes to the way you are treated, for example to allow you to wear a particular uniform.
The organisation agrees to change its policies to be more inclusive of LGBTQIA+ people.
The organisation agrees to provide training to its staff on how to be more inclusive of LGBTQIA+ people.
You and the organisation agree not to speak badly about each other to disclose details of the complaint.
The organisation agrees to pay you some compensation for the pain and suffering caused, or for the income you have lost.
At a hearing the most common outcome is some financial compensation. It is possible to obtain the other above outcomes at a hearing however it is more likely that you would get these things through a settlement agreement.
Example of a discrimination case
Sarah
Sarah applied for a job at a fast food restaurant and was successful in her application. When Sarah started work her manager told her that she would have to wear a name tag with the name on her birth certificate, John, because this was their policy.
Sarah was really upset and stressed out at the prospect of people misgendering and dead-naming her. Sarah sought some advice from a lawyer at Victoria Legal Aid. The lawyer explained that this may be unlawful indirect discrimination and worked with Sarah to write a letter to her employer explaining that addressing Sarah as 'John' is unlawful and asking them to give her a name tag that says 'Sarah'.
Victoria Legal Aid sent the draft letter to Sarah to check before sending it to her employer. After they received the letter the employer spoke to Victoria Legal Aid and explained they hadn't properly understood their legal obligations. They agreed to allow Sarah to have a name tag that said Sarah and to get some training in their obligations under discrimination law. It also meant that other trans and gender diverse people working there would have their name recognised in the future. This allowed Sarah to continue working there without discrimination.
(Heads up: that this is a representative case study only that does not disclose the details of any individual's case)