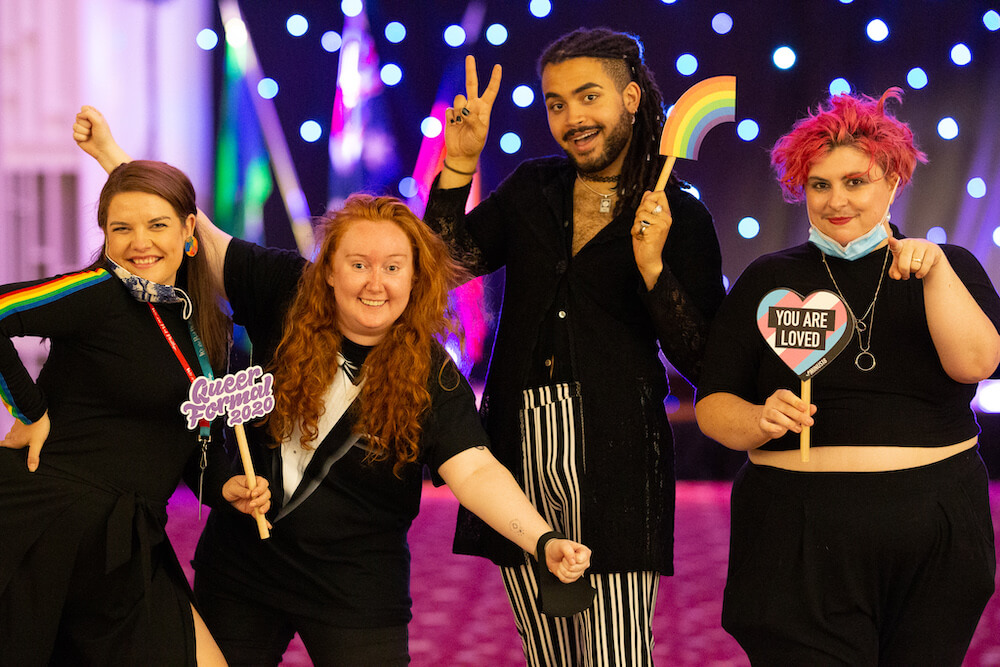 7 reasons why LGBTQIA+ training is important for teachers
Is your school equipped with the knowledge and skills needed to properly support LGBTQIA+ students? It might seem basic, but knowledge of LGBTQIA+ identities, practical tools and strategies for championing inclusivity make a huge difference at schools.
Take it from us – we've seen the positive impact firsthand!
First things first: It's important for teachers to know about LGBTQIA+ identities.
We know teachers work really hard to make their classrooms as inclusive as possible, and understanding LGBTQIA+ identities is a key part of building that inclusive environment. Schools can feel confident that 91% of teachers rate Minus18 presenters' ability to answer questions during their workshops as either 'good' or 'outstanding'. Supporting teachers with LGBTQIA+ skill development is one of the most powerful ways to directly support LGBTQIA+ youth – whether it's confidence in using gender neutral language, confidence in responding to a child coming out to them, or creating a safe and inclusive classroom. Simple as that!
Teachers will be well-equipped to respond to bullying.
What actually IS the most effective way to respond to bullying or derogatory comments about a student's sexuality or gender identity? How do you spot discrimination, and what sorts of ways can bullying present itself? What barriers to LGBTQIA+ young people face, and what can teachers do to alleviate them? LGBTQIA+ professional training means your team will equipped with best practices, and knowledge that's backed up by lived experience AND research.
LGBTQIA+ staff will feel safer and more supported in their role.
LGBTQIA+ skill development is for more than just your students. Engaging in LGBTQIA+ professional training better supports your whole group to foster inclusion in every aspect of their role, including the staff room. We know that when LGBTQIA+ staff feel safe and supported in their identity, they're even more equipped (and motivated) to excel at their job. Namely, creating supportive, inclusive, and happy classrooms.
Confident teachers = confident classrooms.
Minus18 workshops understand that allyship looks a little different for everyone, and our experienced presenters love helping individuals (and teams) in building theirs. Research has shown LGBTQIA+ allyship modelled by teachers ends up being reflected by students over time. Something as simple as teachers using gender neutral language has been found to cut bullying and discrimination experienced by LGBTQIA+ students by up to 50%! Thought leadership like this creates genuine, positive change – and Minus18's LGBTQIA+ skill development workshops can help your school be a part of it.
It's a chance to have your questions answered – in a judgement-free environment!
Within any workplace or team, there's going to be varying levels of existing LGBTQIA+ knowledge. It can be daunting to ask questions, and admit you might not know what the acronym stands for, let alone best practices for championing inclusion!
LGBTQIA+ inclusion training provides a low-stakes, judgement-free space to ask those questions – and receive accurate answers from professionals!
Besides that, learning in a fun, relaxed environment is a great way for teachers to feel like they are a part of something bigger - together - that they can continue to build upon, long after our presenters have left the building.
Visible allyship is the best way to support LGBTQIA+ students and their parents.
Supporting LGBTQIA+ families to see themselves reflected in their school's culture can help them to feel seen and included within the community. This is great for supporting the mental health of LGBTQIA+ students and their families, by letting them know their school is a safe place to reach out to if times get tough.
In addition to Minus18's LGBTQIA+ inclusion workshops, our Parent Resource videos are a great place to get started in understanding allyship from a family perspective. Listen to what these parents of LGBTQIA+ kids have to say aboutlearning to be an ally.
Setting a standard for inclusion is, put simply, life saving work.
By taking part in regular LGBTQIA+ professional training, you are setting a new standard as thought leaders against bullying, shame and discrimination. As members of the community looking to have a positive impact on the shaping of young minds, teachers can feel empowered in knowing that LGBTQIA+ professional training is - at its heart - one of the most important things they might ever do.
Find out more about Minus18 LGBTQIA+ professional training for teachers and general workplaces.