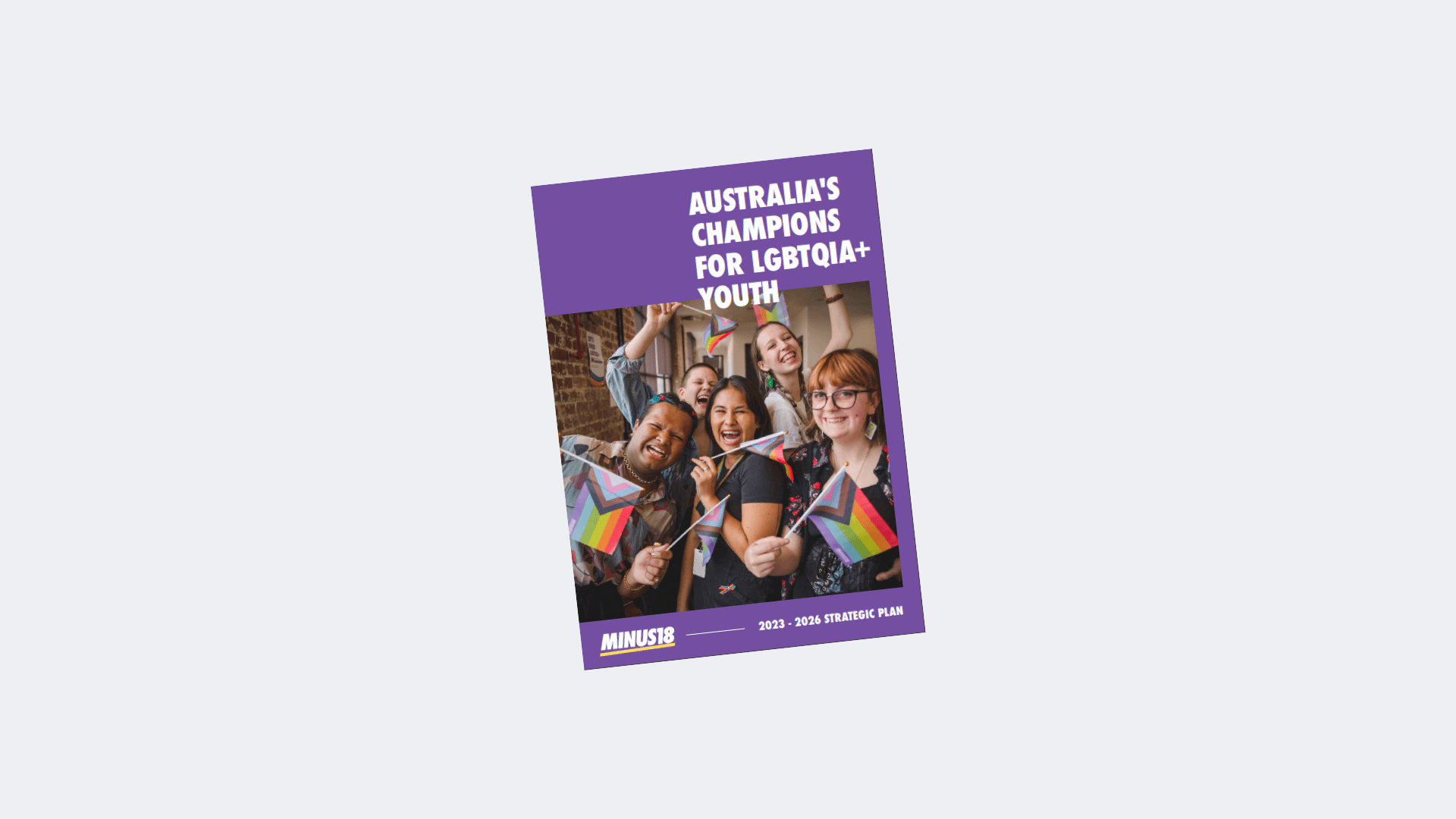 Our Strategic Plan for 2023 to 2026 is now available.
We're incredibly pleased to launch Minus18's Strategic Plan for 2023 to 2026. It's an exciting direction for our organisation as we work to improve the lives of LGBTQIA+ young people right across Australia.
Two in three LGBTQIA+ youth in Australia still today experience bullying or discrimination for who they are. That's why we're working to ensure all young people are safe, empowered and surrounded by people who support them.
Here's the plan:
Deepen ongoing, direct engagement with LGBTQIA+ youth.
We'll deepen the ways we connect with LGBTQIA+ youth to ensure their voices are represented in our work and communities across Australia as we grow.
We'll increase the frequency of our life-affirming youth events and programs, especially for 12 to 19 year old cohorts where the largest gaps still exist.
Expand the reach of our impact and presence across Australia.
To embody our role as the Australia-wide charity, we'll expand our local operations by establishing a second Minus18 office in a state outside Victoria.
We'll continue to service all Australian states and territories through our fly-infly-out model and increased digital engagements.
Grow our work with adults and allies to create systemic change.
Creating an Australia safe for LGBTQIA+ youth us to bring schools, workplaces and families along on the journey of inclusion. We'll continue this work with students, adults, and allies to expand our education and visibility offerings across Australia.
Define and fulfil our role as a leader in the broader LGBTQIA+ sector.
We'll clearly define the role and methods of engagement of Minus18 as a leader in the LGBTQIA+ community through an engagement framework.
We'll grow the ways we platform the voices of LGBTQIA+ youth to our community, while sharing our knowledge and networks with the broader LGBTQIA+ sector.

With the support of BCG, the Minus18 Foundation Strategic Plan extends from 2023 to 2026, and we have some VERY exciting goals as Australia's charity for LGBTQIA+ youth.
As always, we're grateful for the support of you, our community. Every single tax-deductible donation made, big or small, enables us to achieve these goals, and to do the work every day to create a more inclusive Australia.