INCLUSIVE CLASSROOMS
Whether you're responding to a school incident, supporting a student or celebrating diversity, Minus18 is here to guide your staff and students through LGBTQIA+ knowledge and inclusion.
Developed in line with DET and Respectful Relationships curriculums.
Light-hearted, engaging, and interactive approach.
Highly experienced presenters, 100s of schools engaged.
Tell us about it!
No two groups are the same, so we tailor our content to your requirements. That's what makes Minus18 workshops so highly regarded, and always relevant to your cohort.
Simply put, students who feel safe and supported at school are more engaged and perform better academically.
Our experienced and trained presenters are here to help, whether it's in response to a specific incident, supporting a student, empowering a Pride group or equipping teachers with best practices.
Minus18 comes to classroom, teacher team, or school assembly to deliver LGBTQIA+ inclusion and empowerment training that's backed by the latest Australian research.
We interact and engage with our audiences in a variety of ways, however, participants are never required to share personal experiences during the session.
Yes! Minus18 has been delivering workshops in schools across Australia for over nine years, to over 10,000 students and teachers.
Our content is mapped to curriculum outcomes and specialised programs, including Respectful Relationships.
Our LGBTQIA+ student workshops and teacher training are priced competitively based on the cohort size, training duration and your location. We're based in Melbourne, and can deliver training interstate or in regional areas.
Unlike other LGBTQIA+ Inclusion Training, booking with Minus18 means that 100% of the profits go towards programs that support LGBTQIA+ youth - including community events and school workshops.
Get in touch and our team can provide a quote in no time at all.
Our experienced and trained presenters Wilde, Max, Nix and Tessa have a fun and engaging approach – for both students workshops and teacher training.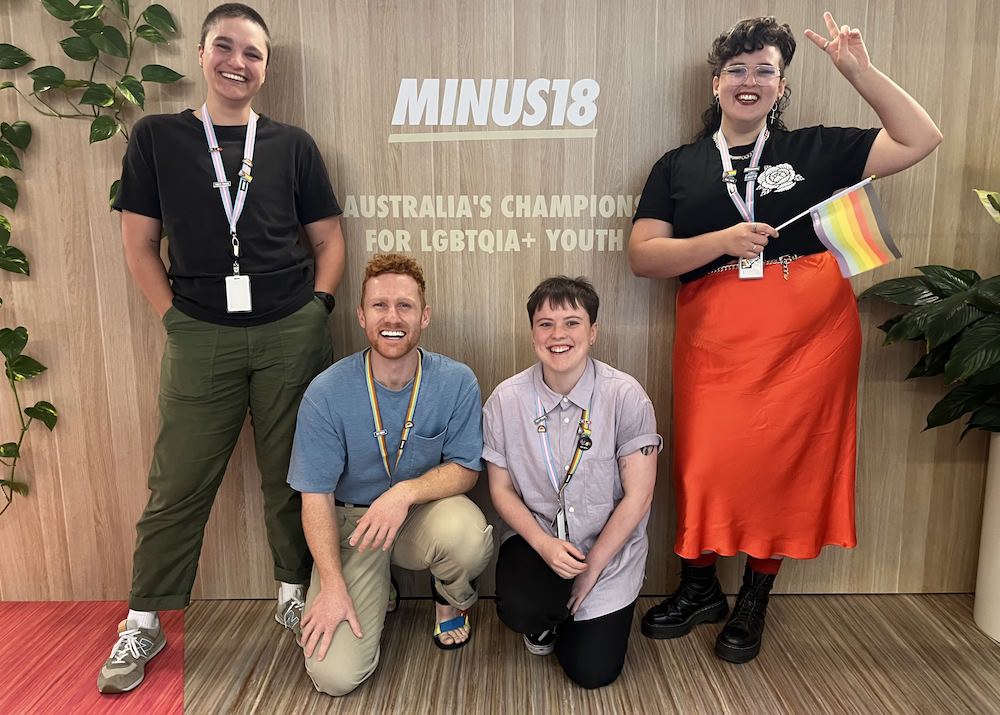 "For those looking to bring LGBTQIA+ inclusion workshops to their school, your first step should be to get in touch with Minus18."
Cameron Bacholer – Deputy Principal, Knox School
We measure our impact. In 2019:
95% of participants would recommend our talks and training to others
95% of participants felt better prepared to support their LGBTQIA+ peers afterwards.
91% of participants said their questions were answered by Minus18 presenters.
To ensure we can deliver the most engaging experience, we require that you provide the following:
All participants must have their own chair
Projector or TV Screen
Computer connected to the screen with HDMI/VGA connections
We also work best when a whiteboard is available.
School staff participating in LGBTQIA+ inclusion training will receive a professional development certificate to certify training completion.