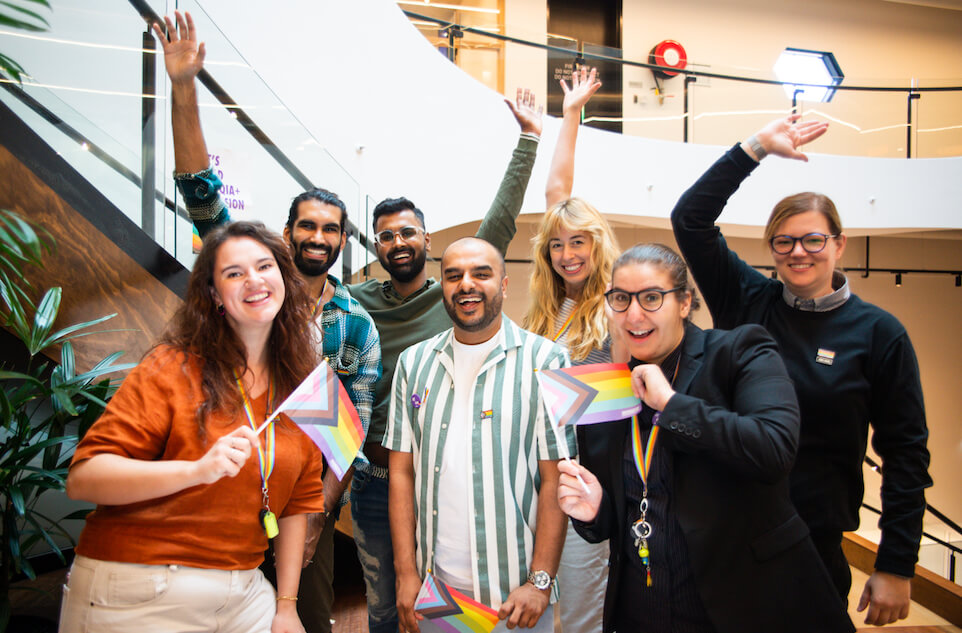 How to have a great IDAHOBIT at work
May 17 IDAHOBIT – the International Day Against LGBTQIA+ discrimination! It's a whole day dedicated to stand out against LGBTQIA+ discrimination, and building LGBTQIA+ inclusion.
IDAHOBIT is a day that makes a huge impact – every morning tea, every workplace lunch n' learn, every rainbow-themed digital meeting and day of professional training creates visibility, and starts important conversations.
We spend SO much of our days and weeks at work – so building an inclusive office, team and workplace makes a huge difference.
So, how do you get involved in IDAHOBIT? It's super easy! Just register your workplace, office, or team to get started. In person or digital, big or small, casual or organisation-wide, go rainbow YOUR way on May 17. We'll even send you a free digital toolkit, filled with tips, event inspo, educational resources, and way more.
1. HOST A RAINBOW ACTIVITY
Once you've registered your workplace – organise an event or activity at work! Digital or in-person, large or small.
Keep it simple
Seriously though! If this is your first IDAHOBIT (and even if it isn't), sometimes the simplest ideas are the most effective. Consider your workplace's vibe and style, and what sort of event is likely to rally your team(s).
Some of our favourites:
Morning tea! It's a tried and true classic for a reason
Lunch n' Learn! You could even invite a guest speaker, your Pride group, or play a Minus18 educational video or our pre-recorded keynote
If your team's working remotely, how about a rainbow-themed morning meeting?
The more rainbows, the better!
One of our absolute top tip? Fill your office with rainbows! It's visually striking and effective, AND it creates visibility of the day. Visibility and education are two of the most important parts of IDAHOBIT, and being an LGBTQIA+ ally.
Grab a Pride Pack from our online store, filled with all the rainbows you need for a great event, AND to champion inclusivity year-round (including posters, lanyards, educational resources and more).
Plus, you'll save over 50% off the RRP of the rainbow goodies inside! Grab a Pride Pack for your desk, your event, or your whole team.
We're here to help
We know that it can feel daunting to organise an event if you're already busy at work, or you're championing it on your own. Head online to check out useful articles, rainbow Zoom and digital meeting backgrounds, social media content, videos, and loads more. We've even included education cards in each Pride Pack!
2. LEARN ABOUT LGBTQIA+ INCLUSION
One of the most important ways building LGBTQIA+ inclusion is via education – and it's more important than ever to stand with the LGBTQIA+ community. No matter where your team, group, or office's level of knowledge is, IDAHOBIT is the perfect time to engage in professional training.
Join us online
It wouldn't be IDAHOBIT without the Minus18 Education Team delivering some live-streamed, interactive LGBTQIA+ professional training! In the lead-up to IDAHOBIT – May 12 to be exact – you'll be able to experience our renowned LGBTQIA+ inclusion training (usually reserved for organisations and large groups).
Expect a walk through LGBTQIA+ identities and terms, inclusion strategies, and a guide to being an ally to LGBTQIA+ colleagues, clients, friends and family. Group discounts available!
Pre-recorded keynotes
Take your activity, morning tea, lunch or digital IDAHOBIT moment to the next level with a pre-recorded keynote from Minus18. Expect ten minutes of allyship tips and inspiration to keep on building LGBTQIA+ inclusion. Yours to stream and share with your whole team, whenever suits YOU.
Share resources
3. BUILD LGBTQIA+ INCLUSION
IDAHOBIT is one day of the year, but it's also a perfect catalyst for you to create lasting change and build LGBTQIA+ inclusion.
We love it when workplaces use IDAHOBIT to launch new initiatives, inclusive policies or programs, or even Pride groups. How will you be using the day to truly make an impact? Even if you're in the formative stages of an idea, something as simple as fundraising makes a difference.
Don't forget to fundraise!
We love morning teas, but they're even better when they support the work of LGBTQIA+ orgs making a difference year-round. Integrate a fundraising component into your office activation, and start year-long conversations about inclusion. You could collect gold coin donations at your morning tea, or set up a digital fundraiser to avoid collecting physical coins. Whatever your style, every little bit makes a huge difference.
Organise a digital crowdraiser >>
Read more about fundraising >>
The impact of your donations
No matter which LGBTQIA+ organisation you're supporting on IDAHOBIT, you're making a huge difference merely by fundraising.
If you donate in support of Minus18 via IDAHOBIT, we can't thank you enough. Your donation means we're able to create life-affirming events for LGBTQIA+ young people; that we're able to create free resources for youth and their families. It means we're able to reach regional and rural young people, and head out to educate the wider community.