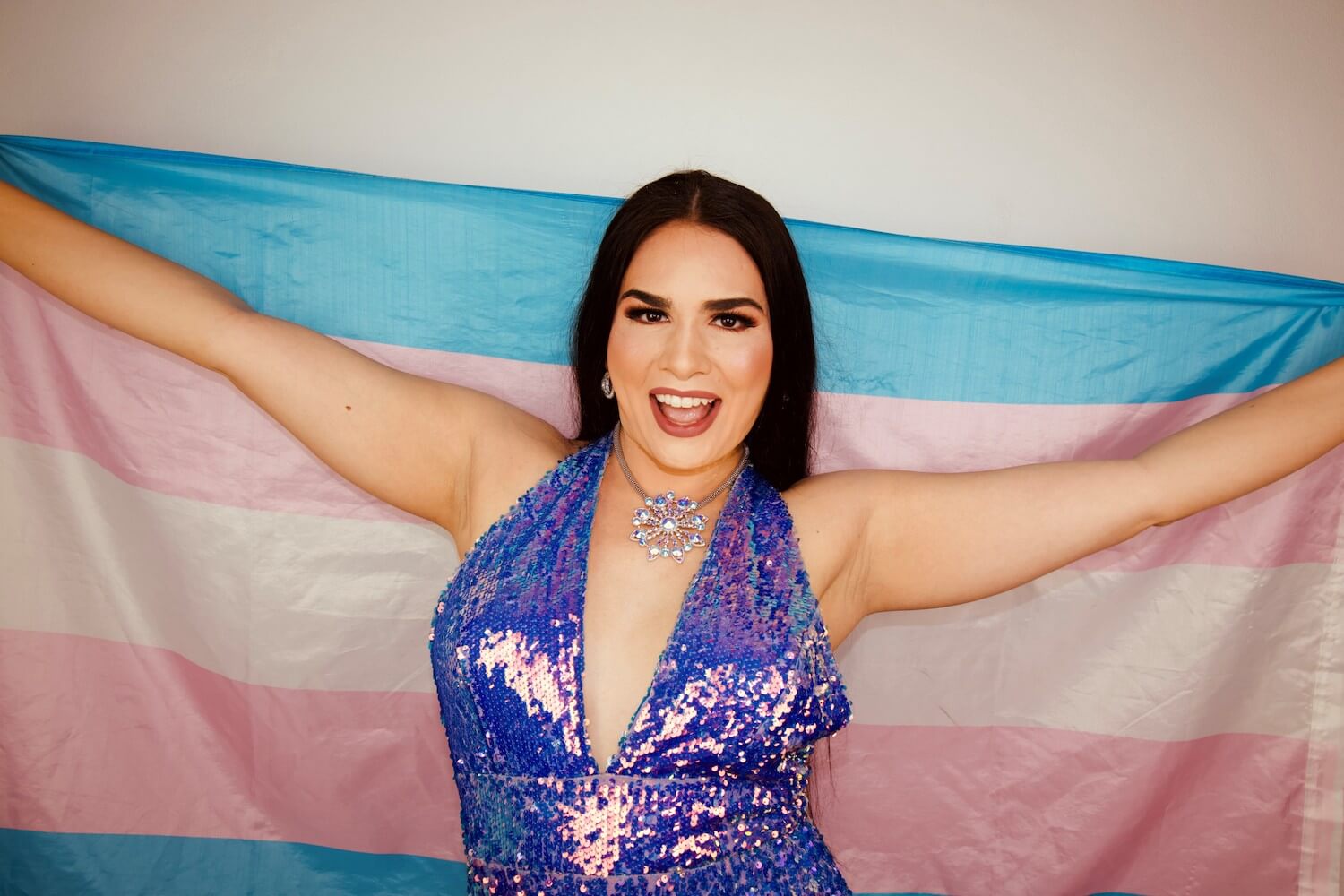 Fearless and Visible Trans Pride: Victoria Anthony
We're celebrating Trans Awareness Week from November 13 to 19! And in honour of this special week of trans pride and allyship, we had a chat to DJ, trans advocate and Olay Fearless ambassador Victoria Anthony.
Tell us a little about yourself! What are you passionate about, what brings you joy – how would your friends describe you?
I am passionate about being transgender proud and visible within the community. I work as a DJ, and I love sharing my love for music with a crowd! I play anything to make people happy and dance. I have asked my friends how they would describe me and my friend Oak said I am crazy, but that have a sweet heart! My bestie Skye also said, "Courageous, noble, glorious"
As a DJ, how has music influenced your life and what role do you feel it plays within the LGBTQIA+ community in creating connection?
Music has always been a big part of my life, from the days singing karaoke with my Filipina mother to days now, listening to disco music. I LOVE disco, it's my favourite genre.
I definitely feel like music is something that truly brings the LGBTQIA+ community together. There's a sense of nostalgia attached to music. Everyone who has ever come out to party at Mardi Gras, a gay bar or a queer space probably has certain songs that bring back so many memories, or that even evoke a feeling of freedom and euphoria – all our community together, listening to the same songs. It's magical!
How have you remained connected to the community and your support during COVID-19?
I've stayed connected to the community through social media – I found that was the best way for me. I've tried to keep posting videos or photos during the pandemic that might be positive or uplifting. I must admit though, I also took a lot of time to myself to keep things simple and go on walks. I tried to really figure out what I want to do once the lockdown ends. I love to travel, and I can't wait to do that again.
How has your journey with your identity shaped who you have become, and who you are now?
I feel like once I came out as a proud trans woman everything fell into place. It was the best decision I ever made in my life. It's really important to be visible, and by doing so I've been able to tell my story and inspire others to live their truth.
What advice do you have for young LGBTQIA+ people, and for trans and gender diverse young people in particular?
Find your people. If you feel isolated, seek out spaces that are supportive, and connect with people online who will support you. I grew up in Bankstown in the south-western suburbs of Sydney, and there were no events for people like me. I travelled to Newtown and Oxford Street, listened to Queer Out West on the radio, and attended pride events to try and find my community.
It makes such a difference to be around those who will support and celebrate you. If you need someone to talk to feel free to message me, or contact services like Qlife. The journey might seem hard at the start but, like a flower, you will blossom and grow everyday. Trust the process.
Why is Trans Awareness Week such an important date for the Trans, Gender Diverse and Non-Binary community?
Trans Awareness Week is a wonderful opportunity for the community to come together! It's a chance to elevate and hear trans voices that may not be heard otherwise. We get to see the many talents and achievements of trans and gender diverse people.
I'm a transgender visibility advocate and I wish I could have seen and met more trans people when I was growing up. Trans Awareness Week helps raise awareness on issues in our community and helps others to gain insight into the trans experience.
We know you've worked with Olay during Mardi Gras, tell us about that experience!
It was incredible to work with Olay during Mardi Gras! They're a great brand, and so supportive of our community!
I wear a lot of makeup all the time, and I actually took all my makeup off on camera as part of our collaboration. It felt so liberating to own that part of me – a part that's still valid. They've made me feel comfortable in my own skin. I'm grateful to be working with the amazing Olay team and to be given the opportunity to help raise awareness and visibility of the LGBTQIA+ community. I love being one of their Fearless ambassadors.
What difference would it have made for you to be able to access a free event like Queer Formal while growing up?
Honestly, it would make an incredible difference! I felt very isolated in my teens and I didn't know any out and proud people. I was bullied for being different at my high school, and I know others were afraid to come out. I would have loved the chance to be around others like me. I really needed to know that who I am is something to be celebrated, not laughed at.
What impact do you think is made by brands like Olay celebrating Trans Awareness Week?
I think it's really important for young people to feel included, and to feel like they can live their life proudly, without shame. Brands giving trans people a platform and a voice lets trans people, and the whole community, know that it's okay to be who you are.
I never had anyone to look up to when I was younger, and I thought my life would be difficult. But I'm so happy I made the decision to affirm my gender. I wouldn't have it any other way. As time goes on, it gets easier and – to be honest – you just stop caring what people think. You just rock it and push forward in life.
A big part of Trans Awareness Week is celebrating TGDNB pride. What does pride mean to you?
It means being fearless, and being proud of who you are. It means community. Owning your truth, being happy, being confident and comfortable in your own skin. It's a celebration of self-expression, gender euphoria and sexuality. It's about liberation!
Trans Awareness Week is a chance for cis people to learn how to be better allies. Can you think of a time in your life where an ally got it right – and how did that make you feel?
I'm very lucky to have many allies in my life and I'm very grateful! Most recently, I'm going to give a special mention to my partnership with the team at Olay. The pandemic was very hard on me mentally, and the team at Olay were so supportive, and always reassuring me that I was chosen as an ambassador for a reason. I just need to be myself and to #FearLessGlowMore. I'm their first openly trans ambassador and they are leaping forward and being inclusive of our community.
How will you be celebrating Trans Awareness Week?
I will be flying the trans flag high, and I'll be celebrating with all of you! I will be visible and proud, spreading my positivity, as always, and sharing my passion for music with everyone at every event I'm a part of! I can't wait to dance and party – so I'll see you on the dance floor!
------
We'll be celebrating Trans Awareness Week alongside Victoria Anthony and our friends at Olay until November 19, and closing out the week with Trans Day of Remembrance on November 20.
Whether you're a member of the TGDNB community or you're an ally educating yourself, we hope you have an amazing Trans Awareness Week!