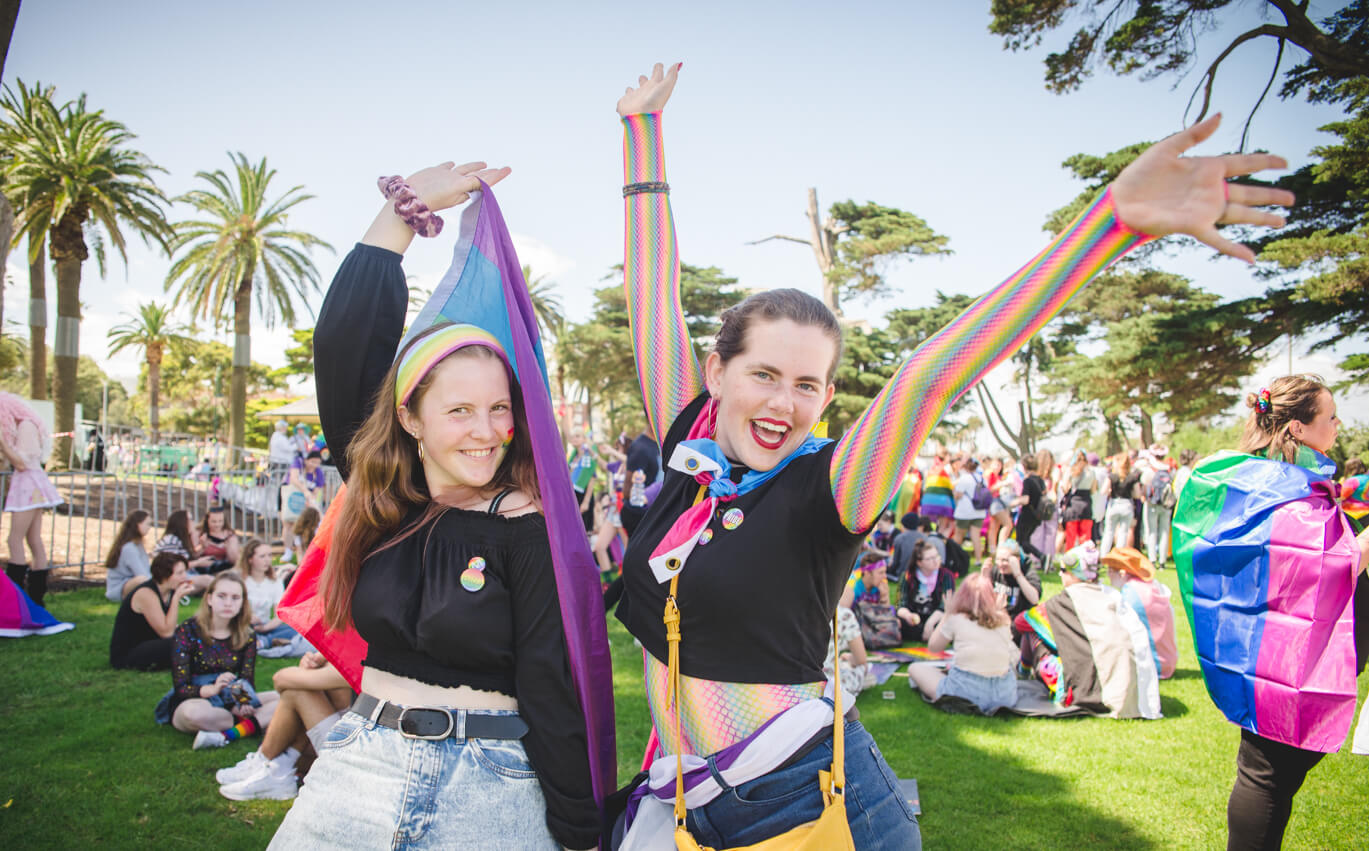 How to have a great IDAHOBIT with friends
May 17 IDAHOBIT – International Day Against Homophobia, Biphobia, Interphobia & Transphobia! In other words? It's an international day to stand out against LGBTQIA+ discrimination at work or school – but what if yours isn't getting involved? Easy. Celebrate with friends, or your community!
It's a day that makes a huge impact – every classroom discussion, school assembly, workplace morning tea and fundraising event starts important conversations. If your school or office isn't getting involved, you still can absolutely make a difference and create visibility on May 17. After all, even if we've achieved marriage equality, there's still a LOT of work to be done to champion ALL identities within the LGBTQIA+ community.
It's easy to get started. Just register yourself, your community, friends or event to receive your free IDAHOBIT toolkit filled with event know-how and tips.
And if you'd like some extra know-how? We have plenty of that too.
1. ACTIVATE
Once you've registered and received your toolkit – organise a rainbow event or activity with your friends.
Keep it simple
Sometimes the simplest ideas are the most effective, and the most fun. Our biggest tip is to think about what sorts of activities or events your friends already love doing – then add rainbows! Dinner party? Picnic? Movie screening? Digital drinks? Weekend brunch? Truly – follow your heart, and make it fun.
IDAHOBIT is on May 17, which is a Monday. We know events will be happening from basically the Thursday prior onwards, so you have plenty of options in terms of date.
The more rainbows, the better!
One of our absolute top tips? The more rainbows, the better. It's visually striking and effective, AND it creates visibility of the day. Visible allyship and LGBTQIA+ education are two of the most important parts of IDAHOBIT, so you're already making a difference in our opinion!
Grab a Pride Pack, filled with all the rainbows you need for a great event, AND to champion inclusivity year-round (including posters and lanyards). Plus, you'll save over 50% off the RRP of the rainbow goodies inside! Grab a Pride Pack for your event, or for your own desk to champion inclusivity as an individual.
We're here to help
We know that it can feel daunting to organise an event if you're already busy at work, or you're championing it on your own. Head online to check out useful articles, rainbow Zoom and digital meeting backgrounds, social media content, videos, and loads more. We've even included conversation cards in each Pride Pack!
2. EDUCATE
One of the most important ways of fighting discrimination is via education. There's a lot to understand about LGBTQIA+ inclusion, and IDAHOBIT is the perfect time to share information, and education with your community.
Join us online
We're taking our LGBTQIA+ professional training online in honour of IDAHOBIT – and making it available for individuals, rather than just whole teams and businesses. Join the Minus18 Education Team for an introduction to LGBTQIA+ inclusion, identities, and how to be an effective ally. This one isn't just for workplaces – it's full of tips for taking your allyship to the next level.
Start conversations
Remember, each of our Pride Packs come with conversation cards to start important discussions in your community or group of mates. And if you're not that confident leading a discussion? That's okay too! Minus18's video resources are great launching points for discussion (and we've tried to make them fun!).
3. CHANGE THE WORLD
IDAHOBIT is one day of the year, but it's also a perfect catalyst for you to create lasting change and build LGBTQIA+ inclusion year-round.
Don't forget to fundraise!
We love seeing groups of mates get together to champion inclusivity – and we ESPECIALLY love seeing your fundraising events. Integrate a fundraising component into your rainbow celebration to level up your impact.
Gold coin donation at dinner, or a digital crowdraiser at your event (especially if you're all located in different cities / countries) work great. We're even seeing a wonderful increase in Twitch stream fundraisers, and other really inventive live performances (like comedy or music) and product launches.
Organise a digital crowdraiser >>
Read more about fundraising >>
How to use our rainbow ribbons
News flash! Minus18's rainbow ribbons are tax-deductible! Once you've grabbed a pack of 20 (or more), you have a few options. Give them out to your pals as visibility-raising items, sell them for $2 each to ensure you're not out of pocket, or on-sell them to fundraise further and donate your efforts after your event!
The impact of your donations
No matter which LGBTQIA+ organisation you're supporting on IDAHOBIT, you're making a huge difference merely by fundraising.
If you donate in support of Minus18 via IDAHOBIT, we can't thank you enough. Your donation means we're able to create life-affirming events for LGBTQIA+ young people; that we're able to create free resources for youth and their families. It means we're able to reach regional and rural young people, and head out to educate the wider community.