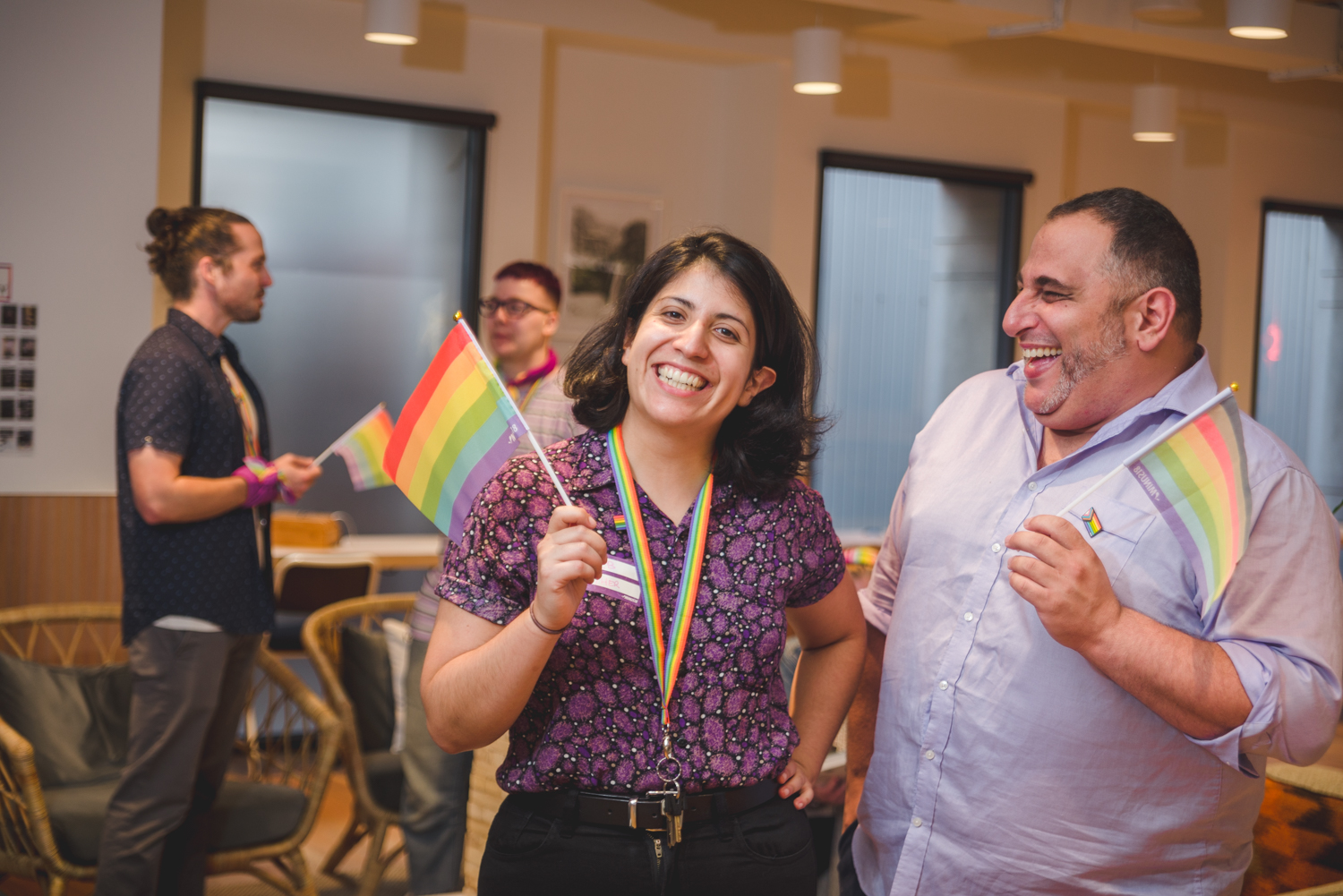 TPG Telecom fundraises in support of Minus18 on Wear it Purple Day
Fundraising is an incredible way to make an impact for LGBTQIA+ young people, and what's more, it's one of the easiest too!
With just a little time and effort, and by getting in touch with the Minus18 team to access our available support and resources, you can help make a difference for queer youth across Australia. We're so lucky to receive fundraising support from so many different individuals, community groups and organisations who are keen to demonstrate their commitment to LGBTQIA+ inclusion, including businesses like TPG Telecom.
TPG Telecom organised an incredible fundraiser for Wear It Purple Day 2021, and made a huge difference for LGTBQIA+ youth with the funds they raised. We were all blown away by just how easy they made it look, so we sat down with Mia Von Klein, Inclusion and Belonging Consultant at TPG Telecom, to find out more about how they made it all happen.
What inspired you to fundraise in support of Minus18?
Our company purpose is to support vibrant communities and build meaningful relationships. Our Pride Network, 'Connect LGBTQIA+ Network' is all about both championing equality and creating a safe community, and we partner with the broader community to enhance and expand how we make a difference for LGBTQIA+ inclusion.
What stood out to us about Minus18 was their vibrancy and the significant difference they're making for LGBTQIA+ youth and Australian communities - we wanted to be part of the bold change they're creating.
Our TPG Telecom Pride Network, 'Connect LGBTQIA+ Network' brings together all employees to champion equality and create a safe community for LGBTQIA+ employees and allies. As part of this, it's incredibly important to us that we partner with the broader community for an even bigger impact on LGBTQIA+ inclusion.
How did connecting with Minus18 help you plan your fundraiser?
First, we caught up with the Minus18 team to discuss how we were able to best bring the fundraiser to life. The team ran us through everything we needed to know and gave us all the information to prep us for our fundraiser.
Setting the fundraiser up was easy, but we had to figure out what else we could do behind the scenes to drive donations. The Minus18 team then helped us brainstorm some impactful ways to drive awareness and engagement. In particular, they supported us to create an engaging virtual morning tea event, and also shared a video with us, which we used to launch the fundraising campaign.
The fact that we got to work directly with Minus18 throughout the process was amazing. We had an absolute blast working with the team and we are so grateful to have had the opportunity to drive such meaningful impact.
How did you bring people together for your fundraiser?
We activated our fundraiser for Wear it Purple Day 2021, launching two weeks beforehand and leaving it open for a total of three weeks. The theme for Wear it Purple Day was "Start a Conversation, Keep it Going", which is exactly what we wanted to do.
Leading up to the day, we used our internal communications platform, Workplace, to share the fundraiser across the whole business, along with an awesome launch video that Minus18 shared with us. We saw a lot of "love reacts" and shares, and not only did we start a conversation internally, but externally too. Our team members spread the word with their friends and family via social media, which broadened our reach even further. Our executive team also got around it, sharing the fundraiser with each other and their direct teams!
On Wear It Purple Day itself, we held a virtual morning tea with a keynote speaker from Minus18, who shared their own lived experience with us, as well as information about the challenges faced by LGBTQIA+ youth and how people can make a difference.
One of our employees also shared a heartfelt story about supporting her child through gender affirmation, reflecting on why it's important to her to support organisations like Minus18. Additionally, we shared some fabulous Minus18 educational resources showcasing diverse families and sharing how parents can support their LGBTQIA+ children.
Finally, to increase engagement on our fundraiser, we activated a Matched Giving initiative, which was the perfect way to boost our fundraising goal. For every dollar donated, our Foundation team would match the donation and double it. This encouraged our donors to amplify the benefit of their donation and gave them a real sense of achievement to know that they're doubling the impact.
By bringing this fundraiser to life throughout different avenues and initiatives, we were able to reach more audiences and make an even greater difference.
You ran your fundraiser via Shout For Good. How did you find using that platform?
The Shout For Good platform was really intuitive, simple and made donating easy for everyone. All we had to do was set up the account, customise the content and graphics and it was ready to go in just a couple of minutes. The page design was slick, colourful and showed our progress against our fundraising goal as well as recent donations. There wasn't much work required on our end apart from setting the page up, as Shout for Good managed the whole process. All we had to do from that point was watch the donations rise over time until its close date!
A specific feature that was super useful was ShoutQR, a QR code badge created for our fundraiser that we used to display across all our communications and at our virtual morning tea event. This allowed people to scan the QR code via their phone which directed them straight to the fundraising page.
All in all, Shout For Good provides a seamless user experience both for businesses and donors, with funds going directly to Minus18 and saving a lot of time in the process. It allowed us to focus on the intention behind our fundraiser - to spread the word with our people, customers and the broader community, and help further Minus18's impact.
How to start fundraising in support of Minus18
If you're interested in running your own fundraiser to support Minus18 and LGBTQIA+ youth, we'd love to hear from you! Simply get in touch via our fundraising contact form, and let us know what you're thinking!