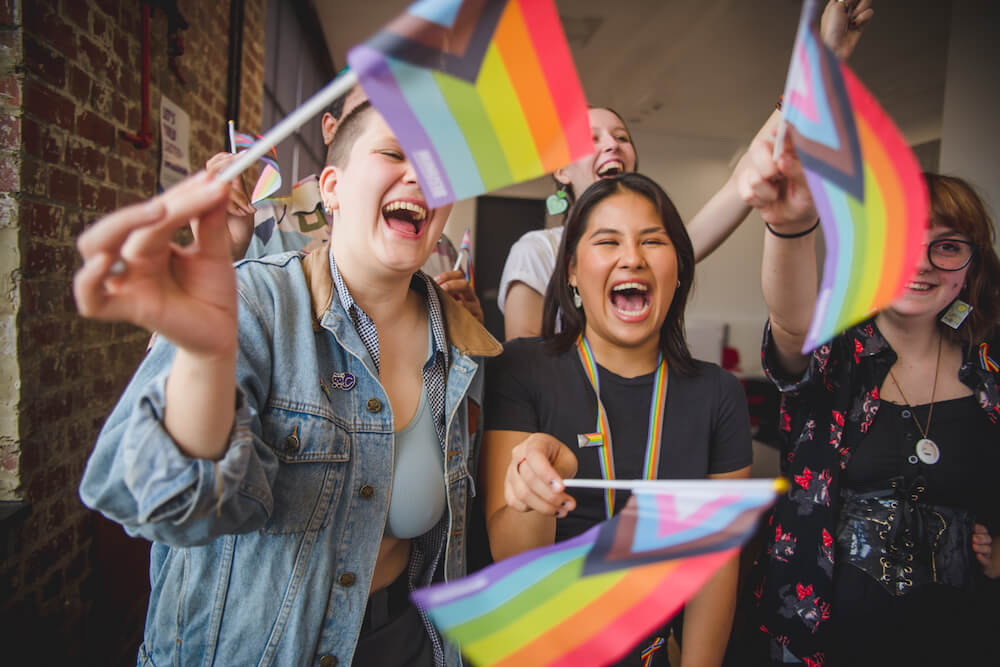 How to have a great IDAHOBIT at school
May 17 IDAHOBIT – the international day against LGBTQIA+ discrimination! In other words? It's an international day to stand out against LGBTQIA+ discrimination at work, school or in your community with family and friends.
It's a day that makes a huge impact. Every classroom discussion, staff room morning tea, school assembly, and rainbow flag raising ceremony creates visibility, and starts important conversations. It's more important than ever to stand with the LGBTQIA+ community, and to let LGBTQIA+ young people know they're supported
We know first-hand the difference that visible allyship in the community makes in the lives of LGBTQIA+ young people. To see their school building inclusion and standing out against discrimination? We're not exaggerating when we say it can be life-changing stuff.
So, how do you get involved? It's super easy! Just register your school, classroom, campus or Pride group to get started. In person or digital, big or small, casual or school-wide, go rainbow YOUR way on May 17. Here's how!
1. HOST AN ACTIVITY
Once you've registered and received your toolkit – organise an event or activity to go rainbow at school!
Keep it simple
Seriously though! If this is your first IDAHOBIT (and even if it isn't), sometimes the simplest ideas are the most effective. Consider your school or group's vibe and style, and what sort of event is likely to rally your cohort.
Morning tea? Classroom discussion? Rainbow school assembly? Casual day fundraiser? A little of a few of those? Start planning, and make sure you take the necessary steps that are unique to your school to get it off the ground.
The more rainbows, the better!
Fill your classroom or school with rainbows! It looks great, creates visibility of the day, AND builds inclusion. Visibility and education are two of the most important parts of IDAHOBIT, so you're already making a difference.
Next? Grab a Pride Pack, filled with all the rainbows you need for a great event, AND to champion inclusivity year-round (including posters and lanyards). Plus, you'll save over 50% off the RRP of the rainbow goodies inside! Grab a Pride Pack for your event, or for your own desk to champion inclusivity as an individual.
We're here to help
We know that it can feel daunting to organise an event if you're already busy at work, or you're championing it on your own. Head online to check out useful articles, rainbow Zoom and digital meeting backgrounds, social media content, videos, and loads more. We've even included conversation cards in each Pride Pack!
2. LEARN ABOUT ALLYSHIP
One of the most important ways of fighting discrimination is via education. There's a lot to understand about LGBTQIA+ inclusion and IDAHOBIT is the perfect time to learn – for both your students, and your fellow staff.
Join us online
When teachers and school staff use inclusive language and are visible LGBTQIA+ allies, instances of bullying and discrimination at school are HALVED. Which is why we're hosting an LGBTQIA+ professional training event online, for the whole community (usually reserved for large organisations).
This interactive, live-streamed event is our full-blown training, made available for individuals and teams. Expect real-life scenarios, and loads of time for questions. Group discounts available!
Adult training + Youth Empowerment
It can be daunting to ask questions about LGBTQIA+ inclusion at at work, AND if you're a young person. In person or digitally, engage Minus18 professional training, or a youth empowerment workshop. We even offer school assembly speeches, in-person and digitally.
Start conversations
Remember, each of our Pride Packs come with conversation cards to start important discussions in your classroom or with your staff team. And if you're not that confident leading a discussion? That's okay too! Minus18's video resources are great places to start, and to educate your cohort.
3. BUILD LGBTQIA+ INCLUSION
IDAHOBIT is one day of the year, but it's also a perfect catalyst for you to create lasting change and build LGBTQIA+ inclusion year-round.
Don't forget to fundraise!
We love casual days and bake sales, but they're even better when they support the work of LGBTQIA+ orgs making a difference year-round. Integrate a fundraising component into your school's IDAHOBIT celebrations and start year-long conversations about inclusion.
You could collect gold coin donations for a casual day or set up a digital fundraiser to avoid collecting physical coins. Whatever your style, every little bit makes a huge difference.
Organise a digital crowdraiser >>
Read more about fundraising >>
The impact of your donations
No matter which LGBTQIA+ organisation you're supporting on IDAHOBIT, you're making a huge difference merely by fundraising.
If you donate in support of Minus18 via IDAHOBIT, we can't thank you enough. Your donation means we're able to create life-affirming events for LGBTQIA+ young people; that we're able to create free resources for youth and their families. It means we're able to reach regional and rural young people, and head out to educate the wider community.